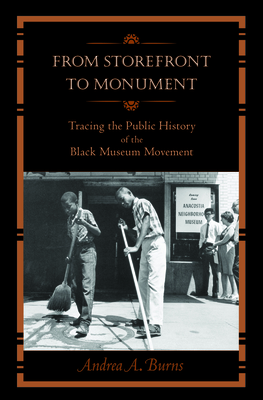 From Storefront to Monument (Paperback)
Tracing the Public History of the Black Museum Movement (Public History in Historical Perspective)
University of Massachusetts Press, 9781625340351, 249pp.
Publication Date: October 3, 2013
* Individual store prices may vary.
Description
Today well over two hundred museums focusing on African American history and culture can be found throughout the United States and Canada. Many of these institutions trace their roots to the 1960s and 1970s, when the struggle for racial equality inspired a movement within the black community to make the history and culture of African America more "public." This book tells the story of four of these groundbreaking museums: the DuSable Museum of African American History in Chicago (founded in 1961); the International Afro-American Museum in Detroit (1965); the Anacostia Neighborhood Museum in Washington, D.C. (1967); and the African American Museum of Philadelphia (1976). Andrea A. Burns shows how the founders of these institutions, many of whom had ties to the Black Power movement, sought to provide African Americans with a meaningful alternative to the misrepresentation or utter neglect of black history found in standard textbooks and most public history sites. Through the recovery and interpretation of artifacts, documents, and stories drawn from African American experience, they encouraged the embrace of a distinctly black identity and promoted new methods of interaction between the museum and the local community.
Over time, the black museum movement induced mainstream institutions to integrate African American history and culture into their own exhibits and educational programs. This often controversial process has culminated in the creation of a National Museum of African American History and Culture, now scheduled to open in the nation's capital in 2015.
About the Author
Andrea A. Burns is assistant professor of history at Appalachian State University.