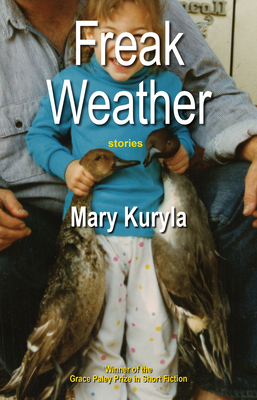 Freak Weather (Hardcover)
Stories (Grace Paley Prize in Short Fiction)
University of Massachusetts Press, 9781625343079, 180pp.
Publication Date: October 6, 2017
* Individual store prices may vary.
Description
From a nurse who sees a rattlesnake in the pediatric ICU to an animal control officer convinced she's found her abducted daughter in the house of a dog hoarder, the thirteen stories in Freak Weather are as unpredictable as the atmospheric changes that give this collection its name. With dark and raucous humor, Mary Kuryla creates female characters who, at times, combine a violent urgency with lack of introspection as they struggle to get out from under the thumb of a perceived authority. The intricate language is inseparable from the narrator's conviction; the characters lie with such bravado they're soon tangled up in their own webs. This brand of romanticism in a female character is little tolerated, and Freak Weather's mission -- Kuryla's artistic mission overall -- is to scratch at the intolerable. Call it bad instructions for moral behavior.
About the Author
Mary Kuryla has been awarded The Pushcart Prize and the Glimmer Train Short Fiction Prize. Her stories have been adapted into award-winning films that premiered at the Sundance and Toronto International film festivals.