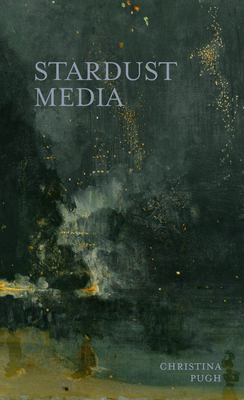 Stardust Media (Juniper Prize for Poetry) (Paperback)
University of Massachusetts Press, 9781625345110, 96pp.
Publication Date: April 24, 2020
* Individual store prices may vary.
Description
Christina Pugh's fifth book of poems explores the technologies both ancient and new that inhabit our contemporary cultural moment. Mapping an uncanny journey through the clusters of media we encounter daily but seldom stop to contemplate, Pugh's focused descriptions, contrasting linguistic textures, and acute poetic music become multifarious sources of beauty, disruption, humor, and hurt. Here, Netflix and YouTube share space with eighteenth-century paintings, Italian graffiti, ballet, Kurt Cobain's recordings, and even a collection of rocks. Whether technology is a vessel for joy or grief in these poems, it is always an expression of our continuing desire to invent and to mediate. At once personal archive and cultural barometer, Stardust Media traces the moving constellations of life in the distant twenty-first century, "a kaleidoscope / . . . half-filled with sky-blue glass-cut blossoming, / then labored to crystallize.
About the Author
CHRISTINA PUGH is professor of English in the Program for Writers at the University of Illinois at Chicago and consulting editor for Poetry. Her fourth book, Perception, was named one of the top poetry books of 2017 by the Chicago Review of Books, and she has been awarded the John Simon Guggenheim Memorial Fellowship in poetry and the Poetry Society of America's Lucille Medwick Memorial Award for her work. Pugh's poems have appeared widely in such outlets as the Atlantic, Poetry, the Kenyon Review, and Colorado Review.