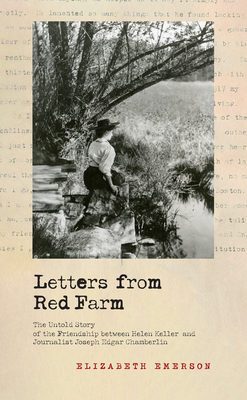 Letters from Red Farm
The Untold Story of the Friendship between Helen Keller and Journalist Joseph Edgar Chamberlin
Paperback

* Individual store prices may vary.
Other Editions of This Title:
Hardcover (9/24/2021)
Description
In 1888, young Helen Keller traveled to Boston with her teacher, Annie Sullivan, where they met a man who would change her life: Boston Transcript columnist and editor Joseph Edgar Chamberlin. Throughout her childhood and young adult years, Keller spent weekends and holidays at Red Farm, the Chamberlins' home in Wrentham, Massachusetts, a bustling environment where avant-garde writers, intellectuals, and social reformers of the day congregated. Keller eventually called Red Farm home for a year when she was sixteen.

Informed by previously unpublished letters and extensive research, Letters from Red Farm explores for the first time Keller's deep and enduring friendship with the man who became her literary mentor and friend for over forty years. Written by Chamberlin's great-great granddaughter, this engaging story imparts new insights into Keller's life and personality, introduces the irresistible Chamberlin to a modern public, and follows Keller's burgeoning interest in social activism, as she took up the causes of disability rights, women's issues, and pacifism.
Praise For Letters from Red Farm: The Untold Story of the Friendship between Helen Keller and Journalist Joseph Edgar Chamberlin…
"Adds new perspective on Keller, and gives glimpse to an enormously important figure in her education, development, and life."—Boston Globe

"I've read about Helen Keller many times throughout my life, so imagine my amazement in discovering the stunning revelations in this book. I won't spoil the stories, but the letters from Keller and her friends make her feel even more relatable to contemporary readers. I highly recommend this book for anyone interested in learning more about Helen Keller and the many wonderful people she befriended."—Haben Girma, author of Haben: The Deafblind Woman Who Conquered Harvard Law

"Most people only know Helen Keller (and her teacher, Annie Sullivan) through the cliched account of the so-called 'miracle' at the water pump when she was six years old. This book is a riveting supplement to the familiar narrative—telling the fascinating story of the friendship between Helen and the journalist Joseph Edgar Chamberlin who was in many ways more of a kindred spirit to Helen than Annie herself."—Max Wallace, New York Times best-selling author of Love Death: The Murder of Kurt Cobain

"The book immediately draws the reader in, as Emerson's personal connection to Chamberlin makes her a unique guide through the material. Her descriptions, observations, and explication are smart, well-written, and propel the reader forward. It's a fascinating well-told story."—Patricia J. Fanning, author of Artful Lives: The Francis Watts Lee Family and Their Times

"Emerson's delight in her discoveries is clear from the start, as she captures Chamberlin's role in Keller's life and offers a helpful interpretation of its importance. Those interested in journalism will find the stories of Chamberlin's work and his journalistic voice on social issues fascinating."—Leah Blatt Glasser, author of In a Closet Hidden: The Life and Work of Mary E. Wilkins Freeman
Bright Leaf, 9781625346179, 288pp.
Publication Date: September 24, 2021
About the Author
ELIZABETH EMERSON is a former grant writer and award-winning artist based in Chapel Hill, North Carolina. She has contributed material to PBS's film biography Becoming Helen Keller and written guest articles for the American Foundation for the Blind's Helen Keller Archival Collection and the Perkins Archives' newsletter.