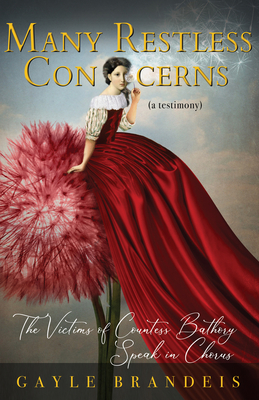 Many Restless Concerns
The Victims of Countess Bathory Speak in Chorus
Paperback

* Individual store prices may vary.
Description
Poetry. Women's Studies. Although MANY RESTLESS CONCERNS illuminates the horror of absolute control over others, it also shines a beacon on the strength of women sharing their truths one by one, of spirits joining together to topple the seemingly untouchable. This work speaks to our own times, to our #metoo reckoning, to our power as survivors to take back our stories and reclaim the darkness. Oppression of any kind never holds, even if it takes the dead to bring it down. This book is a haunting, essential read for all uneasy souls.--Laraine Herring 'Just know we all have stories worth your time. Just know we're just starting to understand our own worth.' This is how Gayle Brandeis opens MANY RESTLESS CONCERNS. Countess Bathory of Hungary allegedly killed up to 650 girls and women between the years 1585 and 1609, in a variety of cruel, heartless ways. Brandeis brings these words to our attention--stab, strangle, pummel, hack, burn, drown, freeze, scald. 'Your body remembers even when you no longer have a body, some tender part of you still flinches; some immaterial nerves still flare, ' she writes. 'We want you to bear witness, ' voices the chorus. I urge you, the reader, to bear witness to these centuries of silent voices rising up clearly, often beautifully, more often tragically. Bear witness.--Alma Luz Villanueva Feels like a terrifying and gorgeously lyric fairy tale but never once does the author let us forget that the pain is real and the point is empathy, understanding and protecting the ones who come after. Ethereal and beautiful as its ghostly chorus, but with 'muscle and scent, ' 'meat' and 'bone, ' MANY RESTLESS CONCERNS is quickened with the blood of the victims, the essential, and ultimately healing, blood of story.--Francesca Lia Block If all the women and girls who have been murdered, tortured, abused and disappeared were to raise their voices, they would create a song that would drown the world. In Gayle Brandeis' haunting and haunted novel-in-poems, MANY RESTLESS CONCERNS, she invokes such a chorus, the true story of hundreds of young women tortured to death by the Countess Bathory. Brandeis presents their gifts, their dreams, as well as the ways they died, and demonstrates that it is through collective action that they ultimately find justice. You will never un-hear their mournful, defiant and triumphal song.--Terry Wolverton Gayle Brandeis is a miracle. From the forgotten memories of murdered women, she's created a monument of hope, pain, and demands for the justice of recognition. This is a startling, glorious, gorgeous book. What a vision. Read this book and be transformed.--Rene Denfeld.
Black Lawrence Press, 9781625570123, 160pp.
Publication Date: February 14, 2020