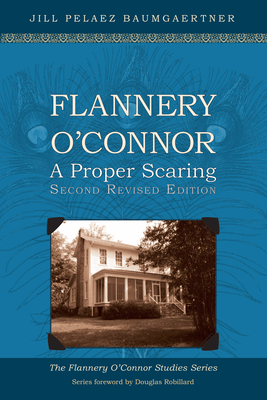 Flannery O'Connor (Flannery O'Connor Studies)
Paperback

* Individual store prices may vary.
Description
Description: ""To the hard of hearing you shout, and for the almost blind you draw large and startling figures."" --Flannery O'Connor, Mystery and Manners Drowning in a river, the violent murder of a grandmother in the backwoods of Georgia, and the trans-genital display of a freak at a carnival show are all shocking literary devices used by Flannery O'Connnor, one of American literature's best pulp fiction writers. More than thirty-five years after her death, readers are still shocked by O'Connor's grotesque images. Dr. Jill Baumgaertner concentrates on O'Connor's use of emblems, those moments of sudden and horrid illumination when the sacred and the profane merge as sacrament. This readable volume is ideal for college students, O'Connor scholars, or those wishing to better understand southern gothic fiction. Endorsements: ""Jill Pelaez Baumgaertner has written one of the few indispensible books on Flannery O'Connor. O'Connor wrote about--and for--people who were blind to what she thought was most important in their lives. Baumgaertner shows how O'Connor worked to restore the vision of both her characters and readers, allowing them to see, even in the grotesque and the violent, emblems of the law that condemns and the grace that saves."" --Brian Abel Ragen, author of A Wreck on the Road to Damascus: Innocence, Guilt and Conversion in Flannery O'Connor ""Professor Baumgaertner's fine study provides the first discussion of the significant emblematic qualities of Flannery O'Connor's work. At the same time, it serves the beginning student of O'Connor as a clear introduction to the religious elements in both her stories and her two novels."" --Marshall Bruce Gentry, author of Flannery O'Connor's Religion of the Grotesque ""This book is both scholarly and easily accessible for the average reader, both interpretive of O'Connor and grittily realistic. Whether O'Connor is taught in areas of higher education, portions of this book ought to be used."" --Walter Wangerin, author of Book of the Dun Cow About the Contributor(s): Dr. Jill Pelaez Baumgaertner is professor of English at Wheaton College.
Wipf & Stock Publishers, 9781625640253, 242pp.
Publication Date: May 1, 2013