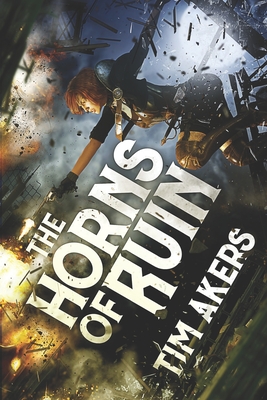 The Horns of Ruin (Paperback)
Jabberwocky Literary Agency, Inc., 9781625672537, 246pp.
Publication Date: February 8, 2017
Other Editions of This Title:
Paperback (11/1/2010)
MP3 CD (8/16/2016)
* Individual store prices may vary.
Description
Eva Forge is the last of her kind-a Paladin of the dead god Morgan, whose might is slowly waning. Trained for a life of combat in the city of Ash, she remains ever wary of the scions of the other gods, who have their own beliefs and agendas. So when Eva accompanies her lifelong mentor to retrieve a strange young girl of a rival faith, she is both curious and suspicious. And above all, she is ready for a fight. But nothing could have prepared her for an ambush by armored, machine-driven corpses. When the smoke clears both her mentor and the girl are gone-taken captive or worse. Though ordered to stand down and let the authorities handle the investigation, Eva cannot let such a disgrace go unpunished by the power of Morgan. Soon, her initial desire for bloody vengeance becomes a quest for answers. Because the more Eva learns in her search for the truth, the less she realizes she truly knows about her city, her destiny, and the gods themselves. And what Eva uncovers will either transform the world or leave it in ruins... Tim Akers, author of the acclaimed Burn Cycle series, introduces readers to a mystical world where men can become gods, and gods can become murderers... "A complex steampunk world."- Publishers Weekly "A solidly created world, populated with magic, action and adventure...we haven't come across such a refreshing take on multiple sci-fi and fantasy forms in a while."-Sci Fi Now "Establishes itself as a unique fantasy adventure in a world all it' own...should be at the top of your list."-Examiner.com.