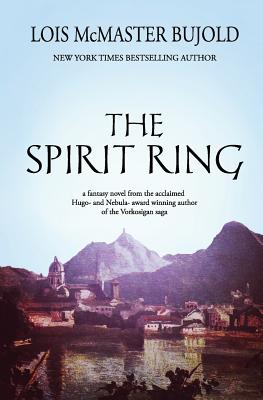 The Spirit Ring
Paperback

* Individual store prices may vary.
Other Editions of This Title:
MP3 CD (10/25/2016)
MP3 CD (11/12/2013)
Mass Market Paperback (5/1/2000)
Compact Disc (11/12/2013)
Description
In an alternate Renaissance Italy where the church regulates magic and licenses magicians, fiery Fiametta Beneforte wants to be more than her goldsmith-mage father's unpaid apprentice. But when the Duchy of Montefoglia is laid under military and magical siege, she unexpectedly must join with Thur Ochs, a young Swiss miner and foundryman, to tap their skills in both metalwork and necromancy to rescue her father's soul and combat an evil sorcerer. "In a perfectly natural manner, Bujold incorporates the concept of magic into this crisply paced, fully developed tale." - Publisher's Weekly "Look out for this winner; it excels " - The Bookwatch Lois McMaster Bujold was born in 1949, the daughter of an engineering professor at Ohio State University, from whom she picked up her early interest in science fiction. She now lives in Minneapolis, and has two grown children. Her fantasy from HarperCollins includes the award-winning Chalion series and the Sharing Knife tetralogy; her science fiction from Baen Books features the perennially bestselling Vorkosigan Saga. Her work has been translated into over twenty languages.
Spectrum Literary Agency, Inc., 9781625781505, 380pp.
Publication Date: October 9, 2014