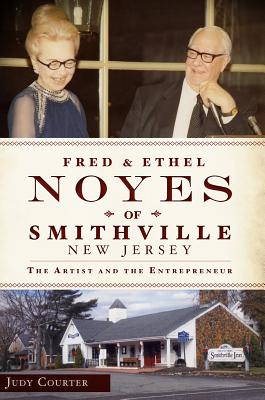 Fred and Ethel Noyes of Smithville, New Jersey: (Paperback)
The Artist and the Entrepreneur
History Press, 9781626190320, 223pp.
Publication Date: April 16, 2013
Other Editions of This Title:
Hardcover (4/16/2013)
* Individual store prices may vary.
Description
Thousands of visitors each year flock to the Historic Smithville Inn and Village to enjoy restaurants, shops and festivals. The story behind Smithville--the remarkable efforts of its founders, Fred and Ethel Noyes--is as colorful as the village itself. Fred was a World War II veteran and artist with a rambunctious personality. Ethel was an unstoppable visionary and self-made businesswoman. Together, they restored the Smithville Inn and, over the years, added the historic village. Ethel ran the enterprise with a notoriously tight grip, while the garrulous Fred painted, collected decoys and was the mainstay. They went on to build the Ram's Head Inn and the Noyes Museum of Art. Fred and Ethel left a lasting legacy for the people of New Jersey. Author Judy Courter tells the story of this fascinating couple through the memories of family, friends and employees.