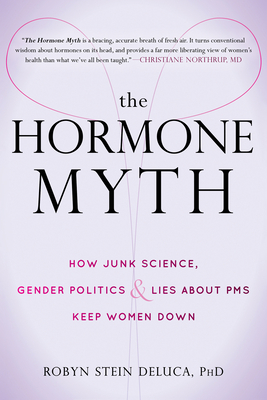 The Hormone Myth (Paperback)
How Junk Science, Gender Politics, and Lies about PMS Keep Women Down
New Harbinger Publications, 9781626255098, 200pp.
Publication Date: August 1, 2017
* Individual store prices may vary.
Description
"The Hormone Myth is a bracing, accurate breath of fresh air. It turns conventional wisdom about hormones on its head, and provides a far more liberating view of women's health than what we've all been taught."
--Christiane Northrup, MD, author of Women's Bodies, Women's Wisdom​

"Is it that time of month?"
"Is your biological clock ticking?"
"You're so emotional lately--are you going through menopause?"

We've all heard it before. From the moody menstrual monster to the menopausal maniac, the idea that women become raving lunatics when their hormones fluctuate is firmly entrenched in American culture--anddeeply fueled by the media. But where exactly did this stereotype come from? How has it hurt women? And how can we move past it once and for all?

In this breakthrough book, Robyn Stein DeLuca fearlessly exposes and debunks pervasive myths about women's hormones, and reveals how flawed, outdated research and sexism have joined forces throughout history to keep women "in their place." With a revolutionary exploration of women's hormonal lives---------from menstruation to childbirth to menopause--DeLuca shines a much-needed light on the lies that have impacted women.

Now more than ever, it's time to resist the myth that women are ruled by their hormones. It's time for women to take charge of their lives. And it's time for women to own their emotions in a healthy and realistic way.
About the Author
Robyn Stein DeLuca, PhD, is a research assistant professor in the department of psychology at Stony Brook University, and was a core faculty member of the women's and gender studies program for fifteen years. She has taught a multitude of courses on health, gender, and reproduction, and her research on postpartum depression and childbirth satisfaction has been published in scholarly psychology journals. Her TEDx Talk "The Good News About PMS" has had over one million views and has been translated into twenty-two languages.