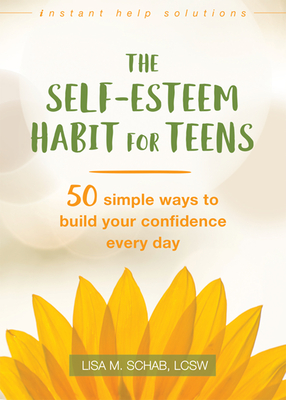 The Self-Esteem Habit for Teens
50 Simple Ways to Build Your Confidence Every Day (Instant Help Solutions)
Paperback

* Individual store prices may vary.
Description
Make self-esteem a habit, every day. Written by Lisa Schab, author of Self-Esteem for Teens, The Self-Esteem Habit for Teens offers 50 simple, positive thoughts and immediate actions to help you "perceive it, believe it, achieve it "
When it comes to cultivating positive self-esteem, the teen years are the most challenging. You're probably experiencing major changes--at school, with friends, physically, and mentally. But you may be tempted to compare yourself to your peers, friends, and celebrities, or get caught up in the seemingly perfect lives of others via social media. These comparisons, along with self-criticism, can feed into your insecurities and cause you to feel like you just aren't good enough. So, how can you break the negative habits of comparison and self-criticism and start being a true friend to you?
In The Self-Esteem Habit for Teens, you'll learn 50 easy, little ways you can make self-esteem a reality (and a habit ) every day--anytime, anywhere. Following the advice within this fun, pocket-sized guide, you'll discover the six steps of lasting self-esteem, and find tips to help you learn from your mistakes, practice gratitude, see things from a different perspective, celebrate strengths, stop overgeneralizing, and cultivate healthy relationships.
Real change only happens with repeated practice. If you're looking for concrete, immediate ways to help you practice and live the principles of self-esteem in your daily life, this little guide is chock-full of wisdom, positive thoughts, and immediate actions to help you be your best self--your authentic self
Instant Help Publications, 9781626259195, 200pp.
Publication Date: January 2, 2018
About the Author
Lisa M. Schab, LCSW, is a licensed clinical social worker with a private counseling practice in the greater Chicago, IL, area. She has authored sixteen self-help books and workbooks for children, teens, and adults, including The Anxiety Workbook for Teens and Beyond the Blues. Schab teaches self-help workshops, conducts training seminars for professionals, and is a member of the National Association of Social Workers (NASW). You can find out more about her at www.lisamschabooks.com.