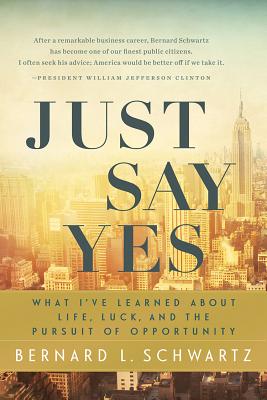 Just Say Yes (Hardcover)
What I've Learned about Life, Luck, and the Pursuit of Opportunity
Greenleaf Book Group, 9781626340749, 318pp.
Publication Date: March 28, 2014
* Individual store prices may vary.
Description
Whether he's leading a company or leading the call for a better nation, storied New York businessman and philanthropist Bernard Schwartz believes in the power of optimism.
Bernard Schwartz has dined with world leaders, cut a multi billion-dollar deal on the back of a napkin, and led a Fortune 200 corporation. From humble beginnings that saw his family moving regularly from apartment to apartment to take advantage of new lease discounts to his dramatic rise to CEO of a major aerospace innovator, the author's story is a narrative on the importance of character, intelligence, and a lot of good luck. In a time when stories about corrupt CEOs and unethical banking practices flood the news, Schwartz offers the notion that doing the right thing is a more rewarding road to accomplishment, and that when applied for immoral purposes even the sharpest skills will likely lead to a fall.
As Americans today await the return of economic stability and politicians wage battle over the future of government programs, opportunity seems out of reach. But Schwartz, who grew up in Depression-era Brooklyn, believes that there are steps we can take as a nation to bring about a recovery and even growth. As a child, he watched men dress for work each day whether they held a job or not. He remembers the widespread deprivation that filled everyday scenes and the streets with breadlines. But he also recalls a hopeful people; a citizenry united in the pursuit of education, homeownership, proprietorship, and community improvement. Today, he champions investments in job creation, infrastructure, technology, and innovation as the means to get us back on track. With measured insight on the role the federal government can play in creating pathways to prosperity, the author discusses how the United States can again be a land of opportunity for all.
In this inspiring example of a life well lived, Bernard Schwartz invites readers to look at their own opportunities, their own ideas, and even their fellow Americans and "Just Say Yes."

About the Author
Bernard L. Schwartz is an investor, a retired industrialist, a progressive public policy advocate and a philanthropist. For thirty-four years he served as chairman and CEO of Loral Corporation and its successor company Loral Space & Communications. Loral, a Fortune 200 defense electronics firm, achieved revenues of nearly $7.5 billion and employed 38,000 people at its height. Mr. Schwartz also formed and served as CEO of K & F Industries and Globalstar Telecommunications. He is currently chairman and CEO of BLS Investments, LLC, a private investment firm, and also manages the investments of the Bernard and Irene Schwartz Foundation. The foundation invests in think tanks, universities, and advocacy organizations, specifically targeting programs that develop policies focusing on US economic growth and job creation initiatives. It also supports institutes of higher education, medical research, and New York City based cultural organizations. Mr. Schwartz and his wife Irene are lifelong Democrats and active supporters of the Democratic Party. They were born in Brooklyn and have resided in New York City all of their lives.

"
or
Not Currently Available for Direct Purchase