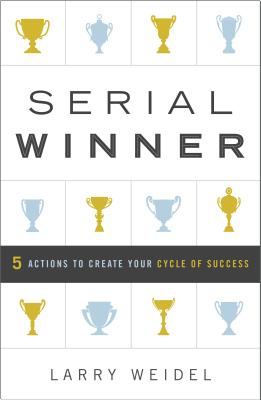 Serial Winner
5 Actions to Create Your Cycle of Success
Hardcover

* Individual store prices may vary.
Description
A USA Today BestsellerInc. Magazine Top 100 Business Book and Top 10 Leadership book of 2015Axiom Business Book Gold Award Winner How Anyone Can Win . . . Again and Again We all know people who seem to move from success to success, with barely a pause or dip in between. They're always excited about the next big project or goal. When trouble comes, they land on their feet. They are role models and opinion makers who lead rewarding lives. In a world full of people who almost win, these are the few who do it repeatedly and consistently. Larry Weidel has benefitted tremendously from the mentorship of some of these serial winners. Applying and adapting their lessons allowed him to achieve extraordinary success and coach others to do the same. In "Serial Winner," he distills the 5 basic actions of the Cycle of Winning to help you: -Move forward when you feel stuck.? -Crush early doubts and give yourself the best shot of succeeding.? -Overcome obstacles to win anyway.? -Maintain your mental toughness until you cross the finish line.? -Avoid the winner's trap and use the momentum of each win to achieve the next. Through inspiring and funny stories and no-nonsense advice, Larry exposes the myths and facts about successful people and shares essential insights into achieving whatever you want in life. Whether you're just starting a venture or looking to get out of a longstanding rut, "Serial Winner" shows you the steps for creating a regular pattern of success
Greenleaf Book Group Press, 9781626342347, 256pp.
Publication Date: October 20, 2015
About the Author
Larry Weidel has helped build an award-winning financial services company of more than 100,000 representatives across North America. At A.L. Williams, which later became Primerica, Larry learned the fundamentals of winning from mentors like Yankees baseball legend Robert ''Bullet Bob'' Turley and Art Williams, the founder of the company. Larry has spent decades building a team that consistently outperforms, helping his sales and management team members achieve and surpass their career goals and become financially independent.