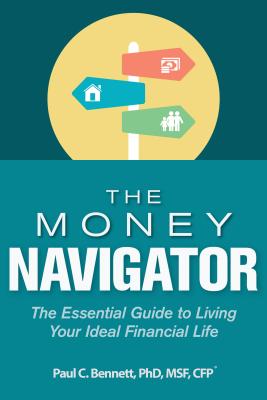 The Money Navigator (Hardcover)
The Essential Guide to Living Your Ideal Financial Life
Greenleaf Book Group Press, 9781626344419, 216pp.
Publication Date: October 3, 2017
* Individual store prices may vary.
Description
Navigate Your Way to Financial Freedom

The road to financial well-being is complex. En route, you face an overwhelming variety of complicated choices--from deciding which job to take to determining how best to spend or save--that can impact your financial life in ways that are often difficult to predict.

Author Paul Bennett knows there is no decision that is not connected to your financial well-being. With over twenty-five years of experience, as a CERTIFIED FINANCIAL PLANNER(TM) professional he also knows that navigating those decisions doesn't have to be so hard. The Money Navigator examines:
- Key insights into human economic behavior
- Reasons why investors make poor decisions
- Why financial and insurance products are so misunderstood
- How a Money Navigator--a full-scale CFP(R)--can help you invest well and manage your financial life with ease.

​With fresh insights and real-life examples backed up by in-depth research, each chapter of The Money Navigator offers you practical takeaways for you particular situation, whether you find yourself on the cusp of retirement, are already retired, or are facing a life transition. Bennett's expert navigation and advice propels you toward the life you always imagined and equips you with the tools to attain your goals.
About the Author
Paul Bennett is a CERTIFIED FINANCIAL PLANNER(TM) professional (CFP(R)), Chartered Financial Consultant (ChFC(R)), and Managing Director of the United Capital regional office in Great Falls, Virginia. He holds a PhD in economics, with distinction, from SMC University, an MS in finance, with honors, from Indiana University, and a BA from the University of Florida. He is currently pursuing a postdoctoral MS in applied analytics from Columbia University. Paul is a three-time author, as he has written two previously published books: Financial Economics of Index Annuities: An Analysis of Investor Returns and Easy Essays on Economics. He is quoted often in the press and has contributed to various publications such as U.S. News and World Report, CNBC.com, Dow Jones News, Financial Advisor Magazine, Financial Planning Magazine, Investment News, Washingtonian magazine, and The Washington Post. He also has served as a subject matter expert for the Certified Financial Planner Board of Standards, contributing to the development of examination questions for the CFP(R) Certification Examination and analyzing the tasks of CFP(R) designees for the CFP(R) Job Analysis Work Group. Paul resides in Great Falls, Virginia, with his wife and twins.