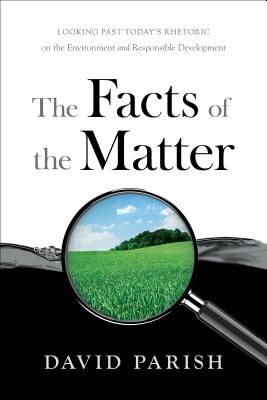 The Facts of the Matter
Looking Past Today's Rhetoric on the Environment and Responsible Development
Hardcover

* Individual store prices may vary.
Description
Too Green to Be True?

Does all the positive press about hybrid cars, alternative fuels, and the next ''green'' must-have product sound too good to be true? Well, maybe it is.

In The Facts of the Matter, Alaskan author David Parish provides a clear explanation of the environmental, technology, energy, and resources issues we face and shows how readers can move politicians, regulators, environmental groups, media, and businesses to truly take the action society needs to prosper.

​Parish helps readers cut through the noise and focus on an optimistic approach to green issues. He argues that the best way to conserve the planet and ourselves is the natural convergence of smart natural resource development with improving the lives of the growing population. The Facts of the Matter is the basis for a conversation, based on solutions rather than rhetoric, and will cause a rethinking of our biases--to the benefit of the greater good.
Greenleaf Book Group Press, 9781626344792, 200pp.
Publication Date: September 25, 2018
About the Author
David Parish has spent the last three decades as an independent business and nonprofit consultant, lobbyist, entrepreneur, and author. With Alaska as his home base for a diverse set of local, national, and international clients, David has worked around the globe as a business consultant and advisor, service volunteer, and curious traveler interested in how the traditional divides of "us versus them" approaches to natural resource development can be bridged and how the wealth from responsible natural resource development can be a catalyst for better environmental stewardship and the elimination of poverty.
or
Not Currently Available for Direct Purchase