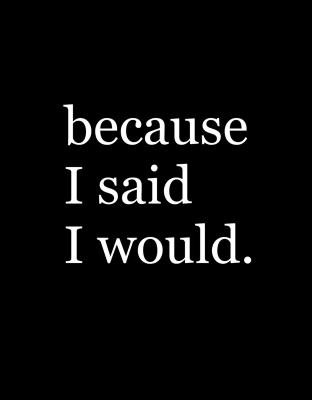 Because I Said I Would. (Hardcover)
Greenleaf Book Group Press, 9781626345348, 296pp.
Publication Date: January 1, 2019
* Individual store prices may vary.
Description
A single promise can change a life forever.
We all make promises constantly. "Yes, I'll be there." "Sure, no problem " But do we really mean what we are saying? What is the impact of a broken promise? And what happens to a life when a promise is honored?
Because I said I would is the international social movement at the forefront of shifting how the world views commitment and accountability. With over 9.81 million Promise Cards distributed, this cause has played a unique role in changing lives around the world. Heartwarming, humorous, inspirational, and tragic--these stories will challenge readers to look deep within themselves and consider the importance of the promises they make.
Through a collection of inspiring short stories and concise philosophical chapters, readers will gain the following:
- Practical life lessons from surprisingly raw stories of everyday people with incredible determination
- Useful advice on how to get better at keeping promises
- Inspiring perspectives that can be utilized in leadership and character development initiatives
​One hundred percent of the author's proceeds go to because I said I would, a 501(c)(3) nonprofit organization that is bettering humanity through chapters of volunteers, character education in schools, accountability programs, and awareness campaigns with global reach.
About the Author
Alex Sheen is a four-time TEDx Talk speaker and the founder of because I said I would, an international social movement and nonprofit organization. As a thought leader in the field of commitment, Alex has been featured on Steve Harvey, Megyn Kelly Today, NPR, CNN, Fox News, and many other programs. He is someone who truly honors commitment. Alex once walked over 240 miles across the state of Ohio in 10 days to fulfill a promise. He has delivered keynote addresses to over 400 audiences around the world and has donated 100 percent of his speaking fees to the because I said I would nonprofit and other charities.