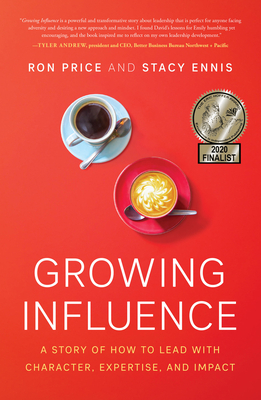 Growing Influence (Hardcover)
A Story of How to Lead with Character, Expertise, and Impact
Greenleaf Book Group Press, 9781626345577, 192pp.
Publication Date: September 18, 2018
Other Editions of This Title:
Paperback, Vietnamese (2/1/2020)
* Individual store prices may vary.
Description
Leadership is about influence ​Emily is a career-driven thirtysomething with big ambitions and a young family. She is making an impact as a leader at a tech company, but after being passed up for multiple promotions, she finds herself at a loss for how to improve. Fate answers her in the form of a kind--and surprisingly direct--older man in a coffee shop. A well-respected CEO before he retired, David has deep and rich leadership knowledge. Emily needs direction, and David is the perfect mentor. Growing Influence offers readers both practical advice on how to develop leadership skills and a relatable account of one woman's growth by applying the principles in the book. Unlike nonfiction business books or business memoirs, this story is a business fable that is both impactful and transformative.
About the Author
Ron Price is an internationally recognized business advisor, executive coach, speaker, and author. Known for his creative and systematic thinking, business versatility, and practical optimism, Ron has worked in fifteen countries and served in almost every level of executive management over the past forty years. As the former CEO of a multi-million-dollar international company, Ron works shoulder-to-shoulder with executive leadership teams to bring strategic clarity and transformational results to organizations. In 2004, Ron started Price Associates, and he serves as president and CEO of the global leadership advisory firm that features the bright minds and innovative solutions of some of the world's top consultants in organizational development, process management, innovation, branding, and more. Stacy Ennis is a creative consultant, success coach, speaker, and writer, as well as the cofounder of Next Level, a women's leadership training program. Her background includes leading as the former executive editor of Healthy Living Made Simple, a Sam's Club magazine that reaches around 11 million readers, as well as serving as the longtime ghostwriter for a Nobel Prize winner in medicine. Stacy has written or edited dozens of books, including her own book, The Editor's Eye (Night Owls Press, 2013). Her TEDx talk, How to Raise Brave Kids, has been viewed thousands of times by people across the world. She has a master's degree in professional writing and editing from the University of Cincinnati and a bachelor's degree in writing from Boise State University.