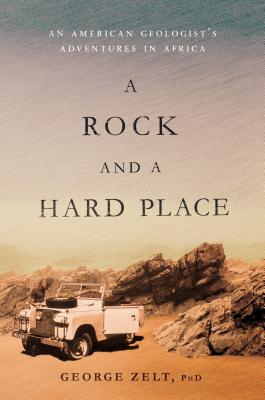 A Rock and a Hard Place (Hardcover)
An American Geologist's Adventures in Africa
Greenleaf Book Group Press, 9781626345713
Publication Date: September 17, 2019
* Individual store prices may vary.
Description
Deadly Snakes. Heatstroke. Scorpions.

These are just a few of the obstacles that George Zelt encounters as a graduate student in apartheid-era South Africa. In A Rock and a Hard Place, readers will follow George as he explores this contradictory, beautiful country during a time of growth and oppression. With tales of finding refuge in a desert sandstorm, being stalked by a leopard, and narrowly escaping a herd of rampaging Cape buffalo, George's story will leave readers breathless--their hearts racing, with the imagined grit of sand in their teeth

Nature is not the only obstacle George encounters. When he makes a discovery that may disprove an established geologic theory, his graduate advisor (and developer of said theory) does everything in his power to prevent George from going public. George has to fight not only against nature but also the politics of university life, all while navigating the complexities of South African culture.

​Who would have thought studying rocks could be so thrilling?
About the Author
George left his Buffalo, New York, home in the 1960s when he was seventeen years old to hitchhike across the United States and Canada on such famous roads as Route 66 and the Alaskan Highway (sleeping in corn fields and hedges and among huge pine trees). In the 1970s and 1980s, he continued, building a shack on the shores of the Red Sea (which was burned down by vigilantes), traveling the coastal roads of Yugoslavia (where he ate with gypsies), and venturing farther north to the Arctic Circle to see the Laplander people before encountering his greatest challenge in Africa. He worked as an environmentalist and then developed his own company in the lawless 1990s in Russia and Kazakhstan when the Soviet Union disintegrated. He holds five degrees, including PhDs from universities in the United States, Finland, and South Africa and has published scientific articles. He recently moved to Texas with his wife and child after spending two years in Thailand, working on his books.