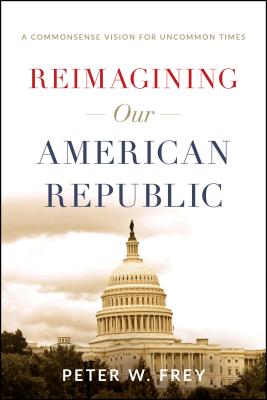 Reimagining Our American Republic (Hardcover)
A Commonsense Vision for Uncommon Times
Greenleaf Book Group Press, 9781626346024, 256pp.
Publication Date: February 5, 2019
* Individual store prices may vary.
Description
Are you concerned about the current political polarization and serious economic and social uncertainty in the United States today?

Peter Frey's powerful, fresh, and fair-minded book, Reimagining Our American Republic: A Commonsense Vision for Uncommon Times, provides solid reasons for hope and a clear direction forward.

After educating readers on the background of the issues affecting America today and examining political problems passed down from previous generations, Frey offers detailed, thoughtful proposals--both practical and provocative--on how we can alter the way we govern ourselves and restructure our government in areas from education and voting rights to healthcare and defense--all while staying true to the intentions of the Founding Fathers.

Frey's book is a call to action to the growing number of Americans--including young people--who are ready to understand and face the critical complexities of the present-day situation and take action to move our country beyond them.

Frey presents straightforward and optimistic proof that there are judicious solutions at hand. The book will energize readers, encourage discussion, and inspire anyone who is eager for new ideas, honest change, and making a positive impact on our country during these historic times.

As Frey asks in the book, "If not now, when?"

Frey is a published author, research scientist, and professor emeritus at Northwestern University.
About the Author
Peter Frey is a research scientist whose experience covers a wide range of disciplines and interests. He is a professor emeritus at Northwestern University, where he served on the faculty for thirty years, teaching in the Computer Science department, the Psychology Department, and the Kellogg Graduate School of Management. While at Northwestern, his research focused on machine learning and computer-based decision systems. He is the author of over sixty academic publications and several commercial software products. In recent years, he managed a small technology company that pioneered commercial applications in predictive analytics. Peter graduated magna cum laude from Yale University and earned his Ph.D. in experimental psychology from the University of Wisconsin. He is an active outdoor enthusiast, hiking, climbing mountains and taking long biking tours. He is also an accomplished stone mason.