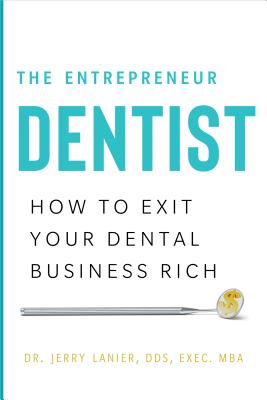 The Entrepreneur Dentist (Hardcover)
How to Exit Your Dental Business Rich
Greenleaf Book Group Press, 9781626346369
Publication Date: May 14, 2019
* Individual store prices may vary.
Description
Your Niche Can Make You Rich Make Your Dental Practice into a Multi-Million-Dollar Business.

​For years, Dr. Jerry Lanier, DDS, has wanted to write a book for dentists about exiting their dental businesses rich. And now that he has become an eminently successful entrepreneur, he has fulfilled that wish with the publication of The Entrepreneur Dentist. Dr. Lanier's book is for every dentist whose ideas of retirement have less to do with downsizing and more to do with travel and living the good life--with absolutely no concerns about money. Aspiring dental entrepreneurs will find Dr. Lanier's book thorough, accessible, and informative. The Entrepreneur Dentist contains everything successful dentists with big dreams need to know about building a dental business and exiting with wealth. Dr. Lanier shows how the future you've dreamed for yourself and your family can become reality--because you've planned for that future with advice from this exceptional entrepreneur.

In 1994, Dr. Jerry Lanier opened his first Kids Dental Kare office, and by 2017, he had 14 offices, employed close to 150 employees, twenty-five associate dentists, and was generating $20 million per year in revenue. When he sold that business, he was on the way to living the life of his dreams. He wants to show you how to plan ahead so you can do the same with your dental practice.

This strategy-and-tactics field manual shows future dental entrepreneurs how to take the right steps so you can carve out successful enterprises over the long term. Dr. Lanier covers the ins and outs of building a thriving dental business, both from macro and micro perspectives, and includes practical steps you should take and pitfalls you can avoid.

This valuable book will take you from being an aspiring dental entrepreneur with a sole proprietorship to business ownership--and finally, to a lucrative exit to the life of your dreams.

Major topics in the book include:
- Defining the dental market and learning how to take advantage of opportunities in it
- Breaking down the dental niche strategy
- Choosing a location (markets, demographics, and other practical considerations
- Marketing and messaging
- Infrastructure (staffing, processes and procedures, systems)
- Building a team (becoming the boss, hiring dentists, managers, and other key players)
- Growth and expansion and getting ready to exit
About the Author
Dr. Lanier is an Entrepreneur Dentist who founded Kids Dental Kare and sold it to Western Dental Services, Inc. in 2017. He built twenty-six de novo offices as 100% owner. His emphasis is on dentists building a franchise-like brand and devising an exit strategy focusing on EBITDA. As an investor, he is now involved in TKO Dental Properties, LLC, and MKTGdocs.com. Dr. Lanier has dedicated many hours to clinical dentistry, mostly in underserved areas. After leaving Meharry Dental School in Nashville, he served for four years in the U.S. Public Health Service Corps in New Orleans. He relocated to Los Angeles in 1991 and founded Kids Dental Kare in 1994. Dr. Lanier received an Executive MBA from UCLA, Anderson School, in 2006. He has studied under Michael Gerber and various success coaches such Jim Rohn and Anthony Robbins. Mentoring and simplifying business for dentists is Dr. Lanier's mission. He coined the phrase "If your money stops every time you stop, you need to get a better plan."Thanks to his rags-to-riches story that ended in a great exit, Dr. Lanier now has time to enjoy playing jazz and spending time with family.