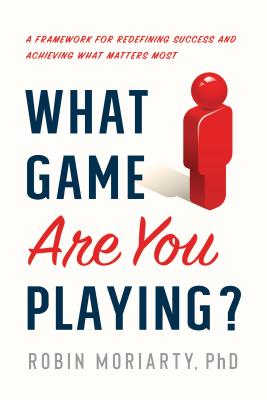 What Game Are You Playing?
A Framework for Redefining Success and Achieving What Matters Most
Hardcover

* Individual store prices may vary.
Other Editions of This Title:
Paperback (3/16/2021)
Description
It's All a Game From the moment we are born, others' expectations shape our behaviors, choices, and definitions of success. We build our personal and professional lives around those expectations and at some point, many of us wonder if we are on the right path. We may want to make changes, but it's difficult and we don't know how to start. In What Game Are You Playing?, author Robin Moriarty, PhD shares her view on what being "successful" should look like, and those views will be a surprise to many. According to Moriarty, life is a game, and it is up to each individual to determine just what kind of game they want to play. The author guides readers through a process that shows them how to assess their current state and outlines the steps they need to take in order to achieve their new game and own version of success.The book enables readers to-- - Gain awareness of the way they want to live their lives
- Reframe success on their own terms
- Map out what they will need to do to get there Through a series of examples and exercises designed as a game, Moriarty helps readers recognize--and then step away from--the expectations of others so they can define and pursue their own version of success in work and in life. Through this process of finding and designing their own games, readers will no longer be a pawn in someone else's.
Greenleaf Book Group Press, 9781626346536, 184pp.
Publication Date: September 10, 2019
About the Author
Robin Moriarty, PhD, is a global business executive, speaker, author, adjunct professor, and thought leader for businesses and non-profit organizations. She has lived on four continents and traveled to 60+ countries. Over the course of her career, Moriarty has focused on aligning businesses with opportunities to create positive societal impact in North America, Latin America, Europe, and Asia-Pacific. As adjunct professor at The Fuqua School of Business at Duke University, Moriarty taught cross-cultural leadership to future global leaders. She regularly shares her observations and advice on navigating complex work and life questions through speaking engagements for students and professionals and on her website, gutsy.world.
or
Not Currently Available for Direct Purchase