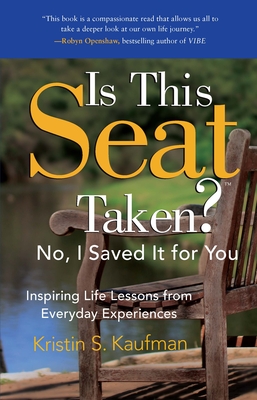 Is This Seat Taken? No, I Saved It for You (Hardcover)
Inspiring Life Lessons from Everyday Experiences
Greenleaf Book Group Press, 9781626346680, 184pp.
Publication Date: October 8, 2019
Other Editions of This Title:
Hardcover (11/1/2011)
* Individual store prices may vary.
Description
When a seat is saved for us, a door is opened to a new learning opportunity.

Real life. Author Kristin S. Kaufman has had the good fortune in her life to have many seats saved for her--both literally and figuratively. In this final book of her Is This Seat Taken?trilogy, Kristin invites you to come along with her as she revisits the moments in her life when she discovered the unmistakable wisdom revealed through the "seats" in which she found herself seated, from an empty folding chair at her high school reunion to the most formative roles of her career.

Real lessons. In this, her most compelling and deeply personal book yet, Kristin shares with you her own struggles and victories to help illuminate the powerful life lessons that reveal themselves through everyday experiences--but only if you know how to look.

A call-and-response story. Kristin invites you on her personal journey, offering questions along the way to motivate and inspire you to discover the lessons in your own life, gained from experiences such as:
- Suffering the loss of a parent
- Learning to make friends as an adult
- Striving for career success
- Ending abusive or toxic relationships
- Growing up with small-town values
About the Author
Kristin S. Kaufman is a successful portfolio entrepreneur. In 2007, she founded Alignment, Inc., to serve individuals and corporations as they seek alignment within themselves and their organizations. Alignment, Inc., is a unique services company through which Kaufman has brought her expertise to tens of thousands of people, working with organizations to create sustainable success individually and collectively. With over 25 years of corporate experience, Kaufman has held leadership positions at three publicly traded companies. She was awarded the distinction of Professional Certified Coach from the International Coaching Federation, and achieved the designation of Certified Leadership Coach through Georgetown University's esteemed program. A popular keynote speaker to audiences ranging from 500 to 50,000, she brings her passion, wisdom, wit and Southern charm to each event. Kaufman is a prolific writer. Her first book, Is This Seat Taken? Random Encounters That Change Your Life, was released in 2011 to national acclaim, and was followed by a sequel, Is This Seat Taken? It's Never Too Late to Find the Right Seat released in 2015. She is an active civic and community volunteer, and currently serves in numerous non-profit board positions. Kaufman lives in Dallas, Texas, with her beloved rescued white Schnauzer, Lulu.