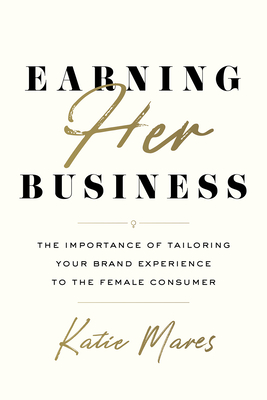 Earning Her Business
The Importance of Tailoring Your Brand Experience to the Female Consumer
Hardcover

* Individual store prices may vary.
Description
The Buying Power of Women
Although the female movement is interwoven into our social world and people preach "girl power," brand experience expert Katie Mares has seen that this mindset hasn't penetrated business branding or the experience businesses provide to women. Most businesses have a "transaction" process to deliver the service they provide, but very few businesses focus on elevating "interaction" so that a brand experience includes a personal connection with the consumer and addresses their genuine interests and needs. This branding disconnect is a problem not only for female consumers but also for businesses that lose potential sales and women's loyalty. Earning Her Business is about showing businesses how to transform the transactional service a woman currently receives into the alluring, interactional experience she craves.
Written for brand and marketing strategists, customer service teams, company leaders, corporate communications teams, and anyone who wants to better understand the female consumer, this book provides businesses with the insights, tools, and guidance they need to adjust their approach to interacting with customers and ignite a spark in their teams and companies.
Earning Her Business sends the clear message that true power comes when businesses focus on providing a brand and consumer experience women--the world's most influential consumers--can't live without. When businesses start doing that--and doing it well--they can cultivate trust, build loyalty, earn referrals, and make top-line sales, and their female customers won't want to go anywhere else. Katie Mares' book is for anyone in business who wants to completely upend their industry.
Greenleaf Book Group Press, 9781626347267
Publication Date: September 1, 2020
About the Author
As a brand experience expert, Katie knows firsthand the challenges organizations encounter as they strive to design a sustainable and effective CX program tailored for the female consumer. Using her experiences as a Chief Inspiration Officer, building company infrastructure and designing customer experience programs, she is now a leading voice for positive, actionable change in the organizations with which she partners. Katie has a master's degree in Adult Training and Development from Schulich School of Business and a Certified Training and Development Professional (CTDP)TM certification. As a highly sought-after speaker, Katie has inspired audiences around the world to think differently about the female consumer, customer experience, and leadership. She has worked with globally-recognized brands, including Honda, Celebrity Cruises, and Canada Post. Katie lives in Toronto with her three children. When she is not traveling around the world consulting and speaking, she can be found on a yoga mat, in a shoe store, or snuggled on the couch eating homemade popcorn and watching a movie with her three little ones.