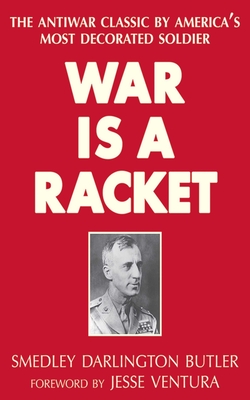 War Is a Racket (Hardcover)
The Antiwar Classic by America's Most Decorated Soldier
Skyhorse, 9781626361058, 224pp.
Publication Date: October 1, 2013
Other Editions of This Title:
Paperback (6/14/2016)
Paperback (7/13/2012)
* Individual store prices may vary.
Description
War Is a Racket is the title of two works, a speech and a booklet, by retired US Marine Corps Major General and two-time Medal of Honor recipient Smedley Darlington Butler. In these works, Butler frankly discusses from his experience as a career military officer how business interests commercially benefit from warfare. After his retirement from the Marine Corps, Gen. Butler made a nationwide tour in the early 1930s giving his speech, "War Is a Racket." The speech was so well received that he wrote a longer version that was published in 1935, now republished with a foreword by former governor of Minnesota and New York Times bestselling author Jesse Ventura.

Jesse Ventura reviews Major General Butler's original writings and brings them up to date, relating them to our current political climate. Butler was a visionary in his day, and Ventura works to show how right he was and how wrong our current democracy is. Read for the first time Butler's words with Ventura's witty, yet insightful spin on this relevant work that will appeal not only to military historians, but also to those interested in the state of our country and the entire world.
About the Author
Jesse Ventura is the former independent governor of Minnesota. He is also a former US Navy frogman, a professional wrestler, a movie actor, a visiting fellow at Harvard Kennedy School of Government, and the New York Times bestselling author of seven books, including American Conspiracies, 63 Documents the Government Doesn't Want You to Read, and Don't Start the Revolution Without Me! He was the host and executive producer of truTV's Conspiracy Theory with Jesse Ventura, which won the Stony Award from High Times magazine in 2010. He was also the host of the political talk show Off The Grid, which aired on RT America and online at Ora.tv. He has a reputation as a rebel and a freethinker, and he has no qualms about questioning authority. He spends half the year in Baja, Mexico and the other half in his home state of Minnesota.