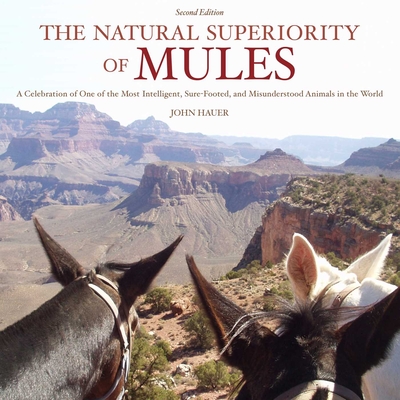 The Natural Superiority of Mules
A Celebration of One of the Most Intelligent, Sure-Footed, and Misunderstood Animals in the World, Second Edition
Hardcover

* Individual store prices may vary.
Description
Mules are hybrids—progenies of male donkeys (jacks) and female horses (mares). Creating a mule is difficult, and baby mules are a bit precocious, but the end result is one of the most fascinating, yet often unappreciated, creatures in the world.

In the revised and expanded second edition of The Natural Superiority of Mules, ranch owner and operator John Hauer celebrates these remarkable hybrids through essays, articles, stories, and beautiful, full-color photographs and illustrations.

The pieces in this collection draw attention to many of the mule's most impressive characteristics, including its agility, strength, grace, longevity, disposition, conformation, and loyalty.

Contributors to this collection range from recognized professionals in the mule community to those members who have recently purchased their first mules. These experts and aficionados include:
Skyhorse, 9781626361669, 208pp.
Publication Date: January 2, 2014
About the Author
John Hauer is the owner and operator of two ranches, a 1,400-acre ranch in the Black Hills of South Dakota, and a ranch located on the banks of the Colorado River north of Moab, Utah. John and his wife, Sena, buy, sell, raise, and ride mules on their "Back Country Mules" ranch north of Moab. His articles about mules have been published in the Saturday Evening Post and in Mules and More. He resides in Moab, Utah.

Sue Cole is the senior editor of Mules and More. She has been an avid mule rider for more than forty years and purchased Mules and More in 1990. She enjoys riding mule trails with her thirty-seven-year-old mule, Star, and her children and grandchildren.