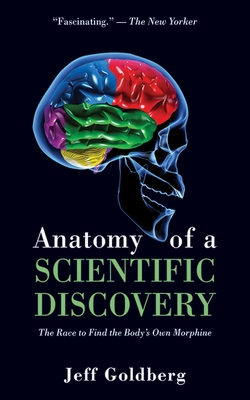 Anatomy of a Scientific Discovery (Paperback)
The Race to Find the Body's Own Morphine
Skyhorse Publishing, 9781626361935, 191pp.
Publication Date: September 1, 2013
* Individual store prices may vary.
Description
The story of endorphins--the body's own morphine. "Fascinating." -- The New Yorker The exciting story of the race to discover endorphins--opiate-like chemicals in the brain--and their links to: drug addiction
runner's high
appetite control
sexual response
mental illnesses such as depression and schizophrenia In late 1973, scientists John Hughes and Hans Kosterlitz spent the majority of their time in an underfunded, obscure, and cramped laboratory in Aberdeen, Sweden. While working on the brains of pigs, the duo discovered a nonaddictive narcotic chemical that they hoped to later find in human brains. If they could isolate this chemical in humans, perhaps they could find a way to help the world begin to heal itself. Hughes and Kosterlitz's research would inevitably lead them to discover endorphins, the body's own natural morphine and the chemical that makes it possible to feel both pain and pleasure. Announcing their findings to the scientific world thrust Hughes and Kosterlitz in the spotlight and made them celebrities. Soon, scientists all over the world were hastily examining the human brain and its endorphins. In a few years' time, they would use the team's initial research to link endorphins to drug addiction, runner's high, appetite control, sexual response, and mental illnesses such as depression and schizophrenia.
In Anatomy of a Scientific Discovery, Jeff Goldberg describes Hughes and Kosterlitz's lives before, during, and after their historic and scientific breakthrough. He also takes a look at the bigger picture, revealing the brutal competition between drug companies to find a way to cash in on this monumental discovery.
About the Author
Jeff Goldberg's on-the-scene account of the discovery of endorphins in Anatomy of a Scientific Discovery established him as a leading science writer. His articles on topics ranging from the controversy of fetal cell transplantation to the amazing minds of infants appeared in Life, Discover, Omni, and other magazines internationally. Goldberg is the author of Flowers in the Blood: The Story of Opium, and the novel Notes on a Bamboo Flute. He resides in South Orange, New Jersey.
or
Not Currently Available for Direct Purchase