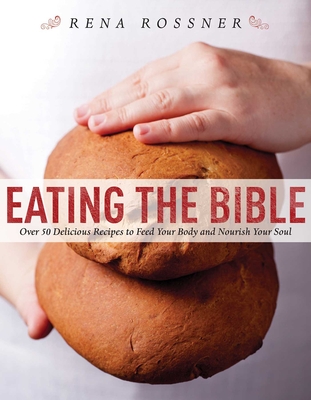 Eating the Bible
Over 50 Delicious Recipes to Feed Your Body and Nourish Your Soul
Hardcover

* Individual store prices may vary.
Other Editions of This Title:
Paperback (8/16/2016)
Description
One weekend, a decade ago, author Rena Rossner was served a bowl of lentil soup at dinner. The portion of the Bible that had been discussed that week was the chapter in which Esau sells his birthright to his brother Jacob for a bowl of red lentil soup. Rossner was struck by the ability to bring the Bible alive in such a tactile way and decided on the spot to see whether she could incorporate the Bible into a meal each week. And so she has. The result, Eating the Bible, is an innovative cookbook with original, easy-to-prepare recipes that will ignite table conversation while pleasing the stomach. Every meal will become both a tactile and intellectual experience as the recipes enrich both the soul of the cook and the palates of those at the table.

Every cook must glance at a recipe countless times before completing a dish. Often recipes involve five- to ten-minute periods during which one must wait for the water to boil, the soup to simmer, or the onions to sauté. It is Rossner's goal to help enrich those moments with biblical verse and commentary, to enable cooks to feed their souls as they work to feed the members of the household and guests. From the zesty "Garden of Eden Salad" to the "Honey Coriander Manna Bread," each recipe will delight the palate and spark the mind.
Skyhorse, 9781626362093, 288pp.
Publication Date: November 5, 2013