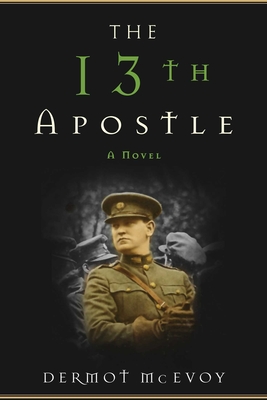 The 13th Apostle (Hardcover)
A Novel of a Dublin Family, Michael Collins, and the Irish Uprising
Skyhorse Publishing, 9781626365612, 583pp.
Publication Date: February 4, 2014
* Individual store prices may vary.
Description
The story--both romantic and terrifying--of how a handful of men, armed with nothing more than handguns and guts, forced the greatest nation in the world from their shores. On Easter Monday, April 24, 1916, the first great revolution of the twentieth century began as working-class men and women occupied buildings throughout Dublin, Ireland, including the general post office on O'Connell Street. Among the commoners in the GPO was a young staff captain of the Irish Volunteers named Michael Collins. He was joined a day later by a fourteen-year-old messenger boy, Eoin Kavanagh. Four days later they would all surrender, but they had struck the match that would burn Great Britain out of Ireland for the first time in seven hundred years. The 13th Apostle is the reimagined story of how Michael Collins, along with his young acolyte Eoin, transformed Ireland from a colony into a nation. Collins's secret weapon was his intelligence system and his assassination squad, nicknamed "The Twelve Apostles." On November 21, 1920, the squad--with its thirteenth member, young Eoin--assassinated the entire British Secret Service in Dublin. Twelve months and sixteen days later, Collins signed the Treaty at 10 Downing Street, which brought into being what is, today, the Republic of Ireland. An epic novel in the tradition of Thomas Flanagan's The Year of the French and Leon Uris's Trinity, The 13th Apostle is a story that will capture the imagination and hearts of freedom-loving readers everywhere. Skyhorse Publishing, as well as our Arcade, Yucca, and Good Books imprints, are proud to publish a broad range of books for readers interested in fiction--novels, novellas, political and medical thrillers, comedy, satire, historical fiction, romance, erotic and love stories, mystery, classic literature, folklore and mythology, literary classics including Shakespeare, Dumas, Wilde, Cather, and much more. While not every title we publish becomes a New York Times bestseller or a national bestseller, we are committed to books on subjects that are sometimes overlooked and to authors whose work might not otherwise find a home.
About the Author
Dermot McEvoy was born in Dublin in 1950 and immigrated with his family to New York City four years later. He is a graduate of Hunter College and the author of of three novels, THE 13TH APOSTLE, OUR LADY OF GREENWICH VILLAGE, and TERRIBLE ANGEL. He is also the author of IRISH MISCELLANY and THE LITTLE GREEN BOOK OF IRISH WISDOM. He is a frequent contributor IrishCentral.com. He lives in Jersey City, New Jersey.
or
Not Currently Available for Direct Purchase