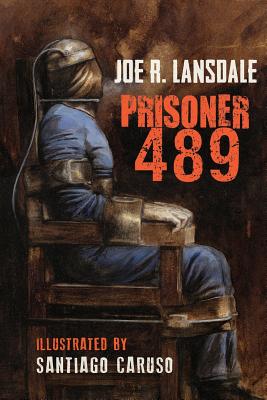 Prisoner 489
Paperback

* Individual store prices may vary.
Description
Bestselling author Joe R. Lansdale (Cold in July, Hap and Leonard series, Bubba Ho-Tep) makes a return to horror with the dark and intense new novella Prisoner 489 fully illustrated by world-renowned artist Santiago Caruso.
On an island with a prison for the most evil and powerful criminals in the world, a new prisoner is strapped to the electric chair for execution. After multiple surges of electricity and nearly knocking out power to the entire island, the prisoner is finally dead. The staff buries him in the prison graveyard with a simple marker baring three numbers: 489.
After the body is buried, a violent storm rocks the islands and a staff member goes missing. The crew rushes into the storm, searching for their lost comrade. They find that the burial site of prisoner 489 has been unearthed, and the body that was inside has gone missing. With a horrific finding and strange noises around them, a powerful threat is closing in. It's a threat that they thought was impossible, and it will force them into a battle for their lives.
"Veteran horror/thriller author Lansdale (Hot in December) tells a tight, spooky tale about what happens when an executed prisoner doesn't stay dead." - Publishers Weekly
"A storyteller in the great American tradition of Ambrose Bierce and Mark Twain." - Boston Globe
"Joe R. Lansdale has a folklorist's eye for telling detail and a front-porch raconteur's sense of pace." - The New York Times Book Review
"Joe R. Lansdale's fellow Texans would call Joe a 'straight shooter.' That's what makes his writing so good-no BS involved. Joe's work is alternately scary, funny as hell, disturbing, but always (and most importantly) memorable." - Actor Bruce Campbell
"Reading Joe Lansdale is like listening to a favorite uncle who just happens to be a fabulous storyteller." - Dean Koontz
Dark Regions Press, 9781626410732, 92pp.
Publication Date: November 18, 2014
or
Not Currently Available for Direct Purchase