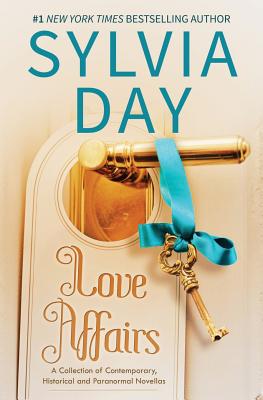 Love Affairs
A Collection of Contemporary, Historical, and Paranormal Novellas
Paperback

* Individual store prices may vary.
Description
The #1 New York Times bestselling author of Bared to You, A Touch of Crimson, and Seven Years to Sin presents some of her most beloved novellas-collected in one edition for the first time.
WISH LIST
When Nicholas James draws Stephanie Martin's name in their law firm's Secret Santa exchange he knows he's in for a merry Christmas-if he can figure out what to give the woman he's wanted for months. When he works late and finds a crumpled piece of paper listing Steph's personal wish list, he knows he's in luck. Because all Steph wants for Christmas is him.
WHAT HAPPENED IN VEGAS
It happened in Vegas... A sizzling encounter that turned into a scorching biweekly affair. But when Robin suggested they take their relationship to the next level, Paul panicked. Four months later, he's got her in an elevator again, ready and willing, but with her emotions tucked safely away. He's got one shot to prove that what happened in Vegas can happen anywhere in the world, for the rest of their lives.
BLOOD AND ROSES
When insurance investigator Anastasia Miller sets out to retrieve the rose-hued pink diamonds stolen in a recent heist, she finds herself working alongside former flame, Deputy US Marshal Jake Monroe-the man she loved enough to leave behind.
A DARK KISS OF RAPTURE
Of all the Fallen, Raze's hungers are some of the darkest and most insatiable. His brazen seductions cost him his wings, leaving him soulless and immortal, the most dangerous of seducers. He has roamed the earth for eons, hunting the rogues of his kind and protecting the humans who provide him with blood and sex. He is content... until one night and one woman change everything.
IRON HARD
Baron de la Warren returned from the war a hero, a sky captain lauded for his brilliant strategies and swashbuckling boldness. Tinkerer Annabelle Waters is startled when his lordship commissions mechanized lovebirds, wondering at the private man who lives beneath the public personage. What manner of warrior thinks of such a lover's gift? She is more than a little eager to see for herself...
CATCHING CAROLINE
Jack Shaw's reputation as a wicked libertine is well deserved. He lives for the moment, indulging in temporary pleasures. Until he meets Lady Caroline Seton. Now he wants more than one stolen kiss, he wants forever. But Caroline hides a dangerous secret...
SNARING THE HUNTRESS
Star is an Interstellar Council judge. When she's ordered to hunt down a rogue Jacian ambassador in heat, the precedent is death. Roark has entered his mating cycle, but he doesn't want his pre-assigned partner-he wants Star. Now the huntress is the prey, and when she's snared by a man in heat, it's passion that rules, not the law. Or does it? Roark still has his sentence, and his lover Star is judge, jury... and executioner.
TREASURE HUNTERS
Mercenary/treasure hunter Rick Bronson is ready to hunt down his next treasure-erotic e-books hidden away when erotic romance was banned by the Conservative Censorship Committee. His first order of business is securing the help of literary antiquities expert Samantha Tremain. She's considered one of the foremost authorities on erotic literature in the galaxy, a veritable bounty of carnal knowledge that Rick intends to enjoy to the fullest.
And the bonus short story, SALACIOUS ROBINSON
Sylvia Day, 9781626509979, 320pp.
Publication Date: July 12, 2016