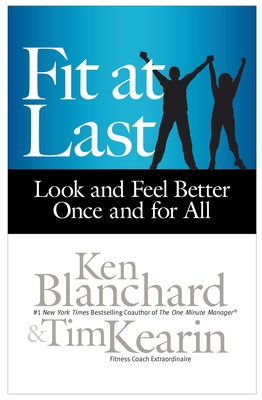 Fit at Last
Look and Feel Better Once and for All
Hardcover

* Individual store prices may vary.
Description
If you're like a lot of us, for years you've been making resolutions and promises about becoming physically fit. Despite all your good intentions, though, somehow it never quite goes according to plan. But you can break that cycle.

In Fit at Last, bestselling business author Ken Blanchard and fitness authority Tim Kearin show how Ken, at age seventy-three, finally was able to make lasting improvements in his health and fitness, including dropping over thirty pounds in a year. In each chapter, Ken shares the very personal story of his ups and downs—involving, among other things, a puppy, a Hawaiian tour bus full of widows, and a fifty-year college reunion—while Tim offers expert advice and wisdom gained from over forty years in the fitness industry.

Following through on your efforts to get fit requires leadership—personal leadership. Early on, Ken realized the same concepts he'd been using for years to help people lead organizations also could help him stick to his program. Here, you'll learn how Ken and Tim applied the Situational Leadership II approach to set SMART goals, diagnose Ken's progress in each of the six core areas of fitness, and match them with the leadership styles necessary to get Ken to the next level in each area.

Certainly there is a wealth of excellent fitness advice here—but ultimately, this is a book about commitment. People don't fail because they don't know what to do—they fail because they just don't do it. Using the tools in this book, you'll be able to move from simply being interested in fitness to making a lasting commitment—one that will add a spring to your step, a smile to your face, and years to your life.
Praise For Fit at Last: Look and Feel Better Once and for All…
"I've been in the fitness industry for more than thirty years, so I know how important it is to keep your body healthy and fit at every age. My hope is that everyone everywhere will realize the transforming effects of a lifelong commitment to health and fitness. I'm so glad Ken has done it—and you can do it, too! Read Fit at Last!"
—Denise Austin, fitness expert and author of twelve books, including Side Effect: Skinny

"I've known Ken Blanchard as a friend and mentor for over thirty years. I'm thrilled that he has become fit at last so we'll all have him around for many years to come. Read the book, make the commitment, and achieve similar results for yourself."
—John Calipari, head basketball coach, University of Kentucky

"To accomplish important goals in your life, having a good coach can really help. Read Fit at Last and learn how powerful a good support team can be. Thanks, Tim, for sharing how you've helped Ken on his health and fitness journey."
—Don Shula, NFL coaching legend

"Ken Blanchard has long helped businesspeople keep their companies at peak performance. Teaming up with trainer Tim Kearin for Fit at Last is perhaps his greatest contribution to the health of corporate America—demonstrating that physical well-being is an essential element of success on every front."
—Harvey Mackay, author of the #1 New York Times bestseller Swim with the Sharks without Being Eaten Alive

"In the Army, teamwork and discipline are key to building successful teams and leaders. In Fit at Last, Ken Blanchard and Tim Kearin team up to deliver a disciplined, holistic formula laced with personal challenges and successes that many of us have experienced in our quest to maintain physical fitness. This book will inspire you to not only begin, but persevere toward the sheer joy of being fit—at last. A tremendous story."
—Lieutenant General Robert Caslen, United States Army


Berrett-Koehler Publishers, 9781626560604, 216pp.
Publication Date: January 6, 2014
About the Author
Ken Blanchard, one of the most influential leadership experts in the world, is cofounder and chief spiritual officer of the Ken Blanchard Companies. He is the author or coauthor of fifty books that have sold more than 21 million copies, including the iconic The One Minute Manager.
Tim Kearin's more than forty years of experience in fitness include serving as director of strength training and conditioning at the United States Military Academy; developing the preventive medicine component at Hughston Clinic; founding Personally Fit, Inc.; and working as clinical consultant for the San Diego Spine Clinic. He has a master's degree from Indiana University.
or
Not Currently Available for Direct Purchase