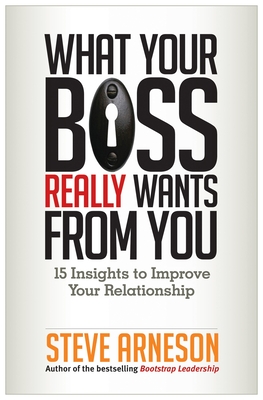 What Your Boss Really Wants from You (Paperback)
15 Insights to Improve Your Relationship
Berrett-Koehler Publishers, 9781626560772, 120pp.
Publication Date: May 5, 2014
* Individual store prices may vary.
Description
Your most important work relationship is with your boss. You need it to go well. But even the best bosses can be hard to read, and some seem downright inscrutable. Your boss isn't going to change for you—don't waste your time trying. The solution lies in figuring out what makes your boss tick and adapting your own work style to make the relationship better. But how do you do that?

In this pragmatic and accessible guide, top executive coach Steve Arneson shows how to find the answers to fifteen essential questions that will help you understand your boss's leadership style, goals, motivations, work relationships, and how he or she sees you. Vivid real-world examples demonstrate Arneson's advice in action and show clearly how this process can be used to gain a more meaningful, productive, and enjoyable work life.
About the Author
Steve Arneson is the founder of Arneson Leadership Consulting. He has been named one of America's Top 100 thought leaders and one of the country's Top 10 leadership coaches by Leadership Excellence magazine.
Praise For What Your Boss Really Wants from You: 15 Insights to Improve Your Relationship…
"This book is a must-read for both employees and bosses—filled with practical exercises that will make you, your boss, and your company more successful."
—Helmuth Ludwig, CEO, Siemens Industry Sector

"Steve Arneson understands that while the boss is the team's quar- terback, it is teamwork—built on high-caliber interpersonal relation- ships—that leads to business excellence."
—Steve Swad, CEO, Rosetta Stone

"Steve Arneson reveals a window into your manager's true motives— just what you need to build a successful partnership with your boss."
—Marc Effron, author of One Page Talent Management and President, The Talent Strategy Group

"In this fascinating book, Steve Arneson offers a practical road map for understanding and adapting to your boss's motives and style. If you want to improve your relationship with the boss, read this book."
—Bridgette Weitzel, Chief Talent Officer, BAE Systems

"Getting along with your boss is the key to a long, successful, and fulfilling career. In this smart book, Steve Arneson shares his secrets for improving your most critical work relationship."
—Bill Allen, Chief Human Resources Officer, Macy's, Inc.

"This book is an invaluable resource for employees and a smart read for all managers who want to be more open about their style, mo- tives, and values."
—Linda Simon, Senior Vice President, Leadership and Organization Development, DIRECTV

"Managing the relationship with your boss is indispensable for career success; in clear, direct, and punchy prose, Steve Arneson provides explicit and essential advice."
—Robert Hogan, PhD, President, Hogan Assessment Systems

"Steve Arneson takes years of observation and distills it into a simple guide on how to improve your most important work relationship."
—Fred Knowles, Senior Vice President, Human Resources, Under Armour

"Steve Arneson delivers an insightful and practical playbook about the ever-challenging employee-boss relationship with this clever follow- up to Bootstrap Leadership."
—David DeFilippo, Chief Learning Officer, BNY Mellon

"Steve Arneson has captured the insights and practical advice needed to build and sustain a powerful relationship with your boss."
—Scott E. Nelson, CEO, MDA Leadership Consulting

"Steve Arneson asks all the right questions to help us understand the boss and motivates us to adapt and take responsibility for the relationship."
—Jane Sommers-Kelly, Managing Director, Duke Corporate Education

"Steve Arneson's book is a must-read for bosses and subordinates who are interested in building more effective professional relation- ships with each other."
—Boris Groysberg, Richard P. Chapman Professor of Business Administration, Harvard Business School

"This book offers a fresh approach to navigating the relationship with your boss. The process and insight Steve Arneson shares can help you get this critical relationship right."
—Jeff Smith, Global Head of Human Resources, BlackRock

"We've all had at least one challenging boss in our careers, and this book shows you practical ways to take ownership of that relationship to realize your full potential."
—Doug Rose, Chief Human Resources Officer, Discover Financial

"Steve Arneson once again delivers with provocative questions and in- sights. He provides practical tips for taking accountability and maxi- mizing your most important professional relationship."
—Tim Tobin, Vice President, Global Learning and Leadership Development, Marriott International

"This book is for all those who have ever gotten a knot in their stom- ach when they get an email or voice mail from their boss. Steve Arneson gives you an effective strategy for the relationship so you'll never feel that anxiety again."
—Jim Norton, Head of Global Media Sales, AOL