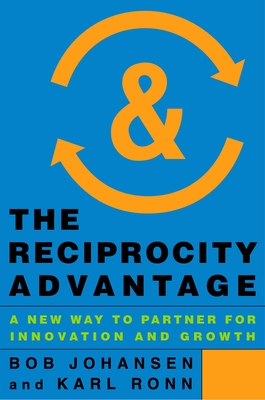 The Reciprocity Advantage
A New Way to Partner for Innovation and Growth
Hardcover

* Individual store prices may vary.
Other Editions of This Title:
MP3 CD (7/28/2015)
Description
A powerful new kind of competitive advantage is now possible thanks to technological and social disruptions that are already occurring. These disruptions revolutionize how companies can partner to create new growth. The Reciprocity Advantage shares a model for creating that growth: define your right-of-way (the underutilized resources you already own that you can share with others), partner to do what you can't do alone, experiment to learn, and scale the new business at low risk.

Reciprocity and advantage are words that are not normally seen together, but reciprocity—giving now to get later—will become a normal part of winning in the future. The Reciprocity Advantage shows you how to leverage new forces like digital natives and cloud-served supercomputing now into massively scalable, profitable, incremental growth for your business.

Provocative and pragmatic, leading ten-year forecaster Bob Johansen and experienced business developer Karl Ronn describe how to lean in to disruptions to create new growth for your business. They include actual cases showing early successes for a range of companies and nonprofits like IBM, Microsoft, Google, Apple, and TED. They then provide key exercises to define your promising new ideas and nurture them into healthy new businesses.

Their recommendations are based on practical experience in managing the problems of new business creation and many years of helping others see the future more clearly. Distilled from hands-on work, this book gets you started today on creating your own reciprocity advantage.
Praise For The Reciprocity Advantage: A New Way to Partner for Innovation and Growth…
"In a world where the pace of change is accelerating, this book is required reading for business leaders trying to connect foresight into insight and insight into action."
—Carlos Brito, CEO, Anheuser-Busch InBev

"In this groundbreaking work, Bob Johansen and Karl Ronn set forth nothing less than a blueprint for the future. The Reciprocity Advantage is an up-to-the-minute analysis of what business has to abandon and what it has to embrace to achieve success in a world where disruption is increasingly the norm. The book is indispensable reading for business leaders whose survival depends on staying ahead of the curve. In other words, all of us."
—Bruce D. Broussard, President and CEO, Humana Inc.

"Read The Reciprocity Advantage if you want to understand how to leverage the disruptive technologies and ideas of the network age to design the winning businesses of the future."
—Tim Brown, President and CEO, IDEO

"The Reciprocity Advantage presents a provocative new recipe for innovation and sustainable growth. Instead of guarding all of your assets, you should give some of them away. With rich cases and practical recommendations from a futurist and an innovator, this excellent book sets the stage for companies to learn more and profit more."
—Adam Grant, Professor of Management and the Class of 1965 Chair, The Wharton School, and author of Give and Take

"For a longtime believer of giving and reciprocity in my personal life, it is very encouraging and refreshing to see how reciprocity is becoming a business advantage. A must-read!"
—Guangyu Li, Senior Partner, McKinsey & Company, Greater China Office

"Johansen and Ronn grabbed and held my attention with wonderful cases ranging from Apple's App Store to the Global Food Safety Initiative. They blend these cases with their decades of deep experience to provide a playbook of concrete and tested methods for putting the reciprocity advantage to work in your organization."
—Robert I. Sutton, Professor of Management Science and Engineering, Stanford University, and coauthor of Scaling Up Excellence

"This is a thinker's book that will make companies and leaders face the future with potential answers rather than uncertainty. A practical read from start to finish."
—Nigel Travis, Chairman and CEO, Dunkin' Brands

"If your business is squeezed by ever-tightening margins and confronted daily by disruptive forces, understanding your reciprocity advantage will open you to the potential of nontraditional partnerships as a path to large-scale growth."
—Donald Hall, Jr., CEO, Hallmark

"Few industries have been more disrupted by the Internet than news media and print publishing. This new 'how to' guide provides a road map that can allow publishing companies to become disruptors and create a bright future for themselves and the people they serve."
—Bill Toler, CEO, Swift Communications

"In The Reciprocity Advantage, Ronn and Johansen provide a new golden rule for business: give to grow and share to scale. A must-read."
—Scott Anthony, Managing Partner, Innosight, and author of The First Mile and The Little Black Book of Innovation

"Every winning strategy is based on a compelling insight, and The Reciprocity Advantage is loaded with insight. Capturing a reciprocity advantage will be the next strategic advantage."
—William G. Pietersen, Professor of the Practice of Management, Columbia Business School, and author of Strategic Learning

"Bob Johansen and Karl Ronn have produced a book that offers masterful insight into one of the defining features of today's world: advantage through reciprocal value creation. Our old win-lose models are no longer fit for purpose. The best businesses today are aiming higher, succeeding in the marketplace while also combatting global challenges like climate change. Bob and Karl's vision will help any leader unlock new forms of value with new thinking."
—Aron Cramer, President and CEO, Business for Social Responsibility

"The Reciprocity Advantage is required reading for my Marketing for Social Profit students. They desire to think beyond financial profit and learn how to develop socially responsible and sustainable enterprises and market offerings that thrive with reciprocity as an important element. This unique book gives readers at all levels of business experience perspectives and actionable information to enhance business and innovation results prepare for the challenges ahead. Anyone interested in growing and making a positive collaborative impact on tomorrow should read this book."
—Linda L. Golden, Marlene and Morton Meyerson Centennial Professor in Business, The University of Texas at Austin

"With their uncanny knack for seeing the future, Bob Johansen and Karl Ronn offer a priceless gift—a fresh, practical strategy for collaboration that can advance both margin and mission in organizations of all kinds. Leaders at every level will benefit from their wisdom."
—John R. Ryan, President and CEO, Center for Creative Leadership
Berrett-Koehler Publishers, 9781626561069, 216pp.
Publication Date: September 15, 2014
About the Author
Bob Johansen is a distinguished fellow at the Institute for the Future in Silicon Valley, where he helps top leaders around the world prepare for and shape the future. He works with corporations such as McKinsey, Tesco, UPS, Kellogg, Disney, and McDonald's—as well as major universities and nonprofits. This is Bob's ninth book.
Karl Ronn is the managing director of Innovation Portfolio Partners. Based in Palo Alto, he helps Fortune 500 companies create new businesses and helps entrepreneurs start category-creating new companies. Previously, he was vice president of research and development and general manager of new business for Procter & Gamble, where he was one of the key innovators behind Febreze, Swiffer, and Mr. Clean Magic Eraser.
or
Not Currently Available for Direct Purchase