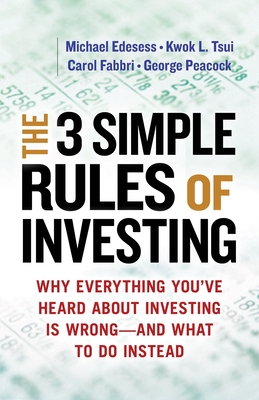 The 3 Simple Rules of Investing (Paperback)
Why Everything You've Heard about Investing Is Wrong # and What to Do Instead
Berrett-Koehler Publishers, 9781626561625, 264pp.
Publication Date: June 16, 2014
Other Editions of This Title:
MP3 CD (8/23/2016)
* Individual store prices may vary.
Description
Managing your money can be stressful. And confusing and complicated advice from the financial industry just makes it harder. But as the authors of this clear, practical, and enlightening book—part financial guide, part exposé—prove, there are just three simple rules you need to follow and only a few investment products that are necessary for an ideal portfolio. That's it. And the authors dispense with all that "expert" advice by deftly debunking what they call investing's Seven Deadly Temptations. By embracing commonsense solutions and rejecting investments that seem enticing but are needlessly complex, overpriced, and risky, you'll put not only yourself in a stronger position but the entire economy as well.
About the Author
Michael Edesess is a founding partner and the chief investment officer of Fair Advisors LLC and author of The Big Investment Lie
Kwok L. Tsui is chair professor at City University of Hong Kong and heads its Department of Systems Engineering and Engineering Management.
Carol Fabbri is a managing partner at Fair Advisors LLC and coauthor of Personal Investing: The Missing Manual.
A 27-year investment industry veteran, GEORGE PEACOCK is a principal at Compendium Financial Investment Advisory, the founder and manager of the Purchasing Power Portfolio, the author of the Yoga of Investing blog, and the managing editor, investments for the online financial site FrankInsight.com. He entered the financial advisory business as an associate at American Express Financial Services (now Ameriprise). He also worked at the Wallace Financial Group, a regional insurance, investment, retirement, and financial planning firm, and Mullin Consulting, advising Fortune 1000 companies on niche compensation benefits for their senior executives. He returned to advising high-net-worth individuals and families when he joined the D.C. office of US Trust, which was later purchased by Bank of America. Mr. Peacock left Bank of America when the firm, like the rest of the investment industry, began relying increasingly on mathematical models whose output depended on a myriad of unknowable assumptions. At Euclid, he immediately established the Purchasing Power Portfolio, a precursor to the Simplify Wall Street approach described in this book. Mr. Peacock is the president of the Georgetown University Alumni Association and is an ex-officio member of the University's board of directors. He is also a member of the External Advisory Board of the Georgetown University Alumni and Student Federal Credit Union, the largest student-run credit union in the country, and The Georgetown Chimes, an all-male a capella singing group. A part-time stand-up comic, he lives in Bethesda, Maryland, with his four children, Duncan, June, Hayley, and Mackenzie.
Praise For The 3 Simple Rules of Investing: Why Everything You've Heard about Investing Is Wrong # and What to Do Instead…
"This may be the clearest and most valuable guide yet written to successful investment. It immunizes you to the parasitic financial services industry's offers that you can't understand and it can't fulfill. If you read only one investment guide in your life, make it this one—elegantly boiled down to the essence of what makes sense and makes money."
—Amory B. Lovins, cofounder and Chief Scientist, Rocky Mountain Institute

"Edesess has done it again. As the individual investor's best friend, he takes the whole financial advice industry to task. What's the secret sauce? Keep your strategies simple."
—Vanessa Drucker, financial journalist, former Wall Street attorney, and writer of popular business fiction

"Put your skepticism aside. Investing properly to achieve your financial goals can be accomplished by following the three simple rules contained in this book."
—Bob Huebscher, CEO, Advisor Perspectives

"This is the book that investors have needed for a long time. It empowers readers to take control of their financial lives and to tune out the propaganda from the investment industry. It becomes easy for investors to do the right things for themselves once they get rid of all the noise, and follow the "Simple" approach that the book recommends." 
--Joseph Tomlinson, actuary and financial planner

"In the world of high finance and investment, in which the top .01% and the wannabes who work for them are out to make lots more money with your money, without giving a hoot about your interests, this is one of the few books that we non-experts on such matters can trust to get us started."
--Bill Domhoff, a professor emeritus of sociology at the University of California at Santa Cruz.

"This very practical book by four expert insiders cuts through all the nonsense and reduces successful investing to a few common-sense principles. It can help you and everybody else, except perhaps, the huge financial industry that generates lavish profits by misleading millions of investors."
--Richard C. J. Somerville, Ph. D. Professor Emeritus and Research Professor at Scripps Institution of Oceanography at the University of California, San Diego