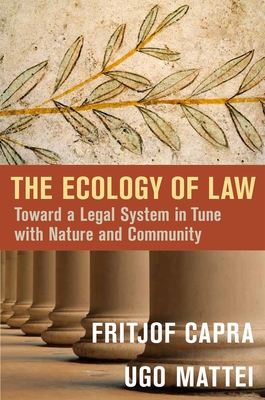 The Ecology of Law (Hardcover)
Toward a Legal System in Tune with Nature and Community
Berrett-Koehler Publishers, 9781626562066, 240pp.
Publication Date: October 5, 2015
* Individual store prices may vary.
Description
WINNER OF THE 2015 IBPA BENJAMIN FRANKLIN AWARD IN POLITICS/CURRENT EVENTS

The Ecology of Law

Fritjof Capra and Ugo Mattei argue that at the root of many of the environmental, economic, and social crises we face today is a legal system based on an obsolete worldview. Capra, a bestselling author, physicist, and systems theorist, and Mattei, a distinguished legal scholar, explain how, by incorporating concepts from modern science, the law can become an integral part of bringing about a better world, rather than facilitating its destruction.

This is the first book to trace the fascinating parallel history of law and science from antiquity to modern times, showing how the two disciplines have always influenced each other—until recently. In the past few decades, science has shifted from seeing the natural world as a kind of cosmic machine best understood by analyzing each cog and sprocket to a systems perspective that views the world as a vast network of fluid communities and studies their dynamic interactions. The concept of ecology exemplifies this approach. But law is stuck in the old mechanistic paradigm: the world is simply a collection of discrete parts, and ownership of these parts is an individual right, protected by the state. Capra and Mattei show that this has led to overconsumption, pollution, and a general disregard on the part of the powerful for the common good.

Capra and Mattei outline the basic concepts and structures of a legal order consistent with the ecological principles that sustain life on this planet. This is a profound and visionary reconceptualization of the very foundations of the Western legal system, a kind of Copernican revolution in the law, with profound implications for the future of our planet.
About the Author
Fritjof Capra, PhD, is a founding director of the Center for Ecoliteracy in Berkeley, California. He is a fellow of Schumacher College in England and serves on the council of Earth Charter International. He frequently gives management seminars for top executives. Capra is the author or coauthor of over ten books, including The Tao of Physics and The Web of Life.

Ugo Mattei is the Alfred and Hanna Fromm Professor of International and Comparative Law at the University of California Hastings College of the Law and a professor of civil law at the University of Turin, Italy. He is active in the European Commons movement and has written academic articles and media commentary translated into many languages.
Praise For The Ecology of Law: Toward a Legal System in Tune with Nature and Community…
"The modern-day legal system is seldom tied to current unsustainable ecological practices. Yet in this thoughtful treatise, co-authors Capra and Mattei show how tenets of western jurisprudence, such as private property rights and eminent domain, have eradicated older precepts. Natural resources were considered 'commons' that belonged to no one, to be shared by everyone. This older way of thinking gradually disappeared as community-based justice was replaced by codified laws serving elites, as in ancient Rome. American law, inherited largely from the English common law tradition, developed under the influence of Enlightenment-era concepts of favoring mercantilism and industrialization – practices that approach the natural world as something to be subdued and exploited. The authors propose a philosophy and jurisprudence that is deeply radical – upending centuries of Western tradition and culture – but possibly crucial to solving looming environmental problems. If there is a flaw in their book, it is perhaps their faith (expressed almost without doubt) that there exists a reasonable possibility of the world jettisoning global capitalism in order to 'decentralize power to small scale communities in tune with the laws of ecology.' Simply reading about Capra and Mattei's vision is a paradigm-changing experience. Realizing it would require a seemingly impossible, but perhaps crucial, global transformation."
- Publishers Weekly

"Confronting the systemic roots of our ecological crisis is far from easy, but there is a heartening side: we remember that the rules of our economic system are culturally constructed -- and that means they can change. This book is not only a dazzling map of the legal order underpinning capitalism, but also a visionary call to transform that system, reminding us that communities can and must drive the process of renewal and regeneration."
—Naomi Klein, author of This Changes Everything and The Shock Doctrine

"Rules restrain but also enable. Law elevates this capacity onto a higher plane but succumbs to its dark side when shaped by vested interests extending cleverly their tyranny upon humanity and nature. Things do not have to be this way. As this book vividly explains law can be turned into an instrument for defending the planet and its inhabitants from the encroachments of financialized commodification."
—Yanis Varoufakis, former Minister of Finance of Greece

"The Ecology of Law is a fast-paced, historical tour de force, placing the law in the various contexts that have shaped its utilization for good or ill. The contexts discussed by these bold thinkers - science and technology, the natural world, and the commons as a legal institution - provide fresh and functional perspectives on the evolution of law for the just society. For all those readers who think, wonder, and bridle at the law in their lives, this book is your tonic."
—Ralph Nader

"Fritjof Capra and Ugo Mattei fill a gap in our understanding of how the mechanistic paradigm that shaped a science for the exploitation and domination of nature was exported into law to 'naturalize' resource grab and the enclosures and privatization of the commons. From the tragedy imposed on the old and young in Greece, to the farmers' suicides in India , the enclosures of the commons is now threatening the very survival of humanity. The Ecology of Law lays the conceptual foundations for the recovery of the commons , and through it, the rejuvenation of our economies, our democracies, our lives ."
—Vandana Shiva, scientist, philosopher, activist, and author of Making Peace with the Earth