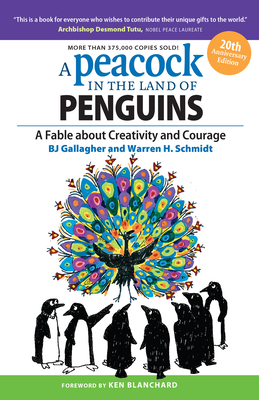 A Peacock in the Land of Penguins
A Fable about Creativity and Courage
Paperback

* Individual store prices may vary.
Description
This classic pioneering book provides keen insight into workplace diversity. With new tips, tools, and strategies for peacocks and penguins alike, your organization will flourish and take flight!
 
Through the story of Perry the Peacock and his fine feathered friends, authors BJ Gallagher and Warren H. Schmidt bring to life the challenges of birds of different feathers who struggle to be successful in the conformity-minded Land of Penguins. Their travails illuminate the challenges of creating a pluralistic corporate culture in which the talent, energy, and commitment of all employees are fully engaged.
 
People who have new ideas that differ from business as usual are often ignored or criticized for the very thing that makes them valuable: their originality and creativity. This unique book helps organizations break out of "penguin thinking" in order to tap into and leverage the creativity of diversity. Learn how to cultivate an organizational culture in which new ideas can flourish and innovation can take flight.
Praise For A Peacock in the Land of Penguins: A Fable about Creativity and Courage…
"Differences are not intended to separate, to alienate. We are different precisely in order to realize our need of one another. Birds of different feathers can, and should, flock together—for it is in bringing our diverse talents, skills, and creativity together that we create a true Land of Opportunity. To paraphrase the words of this lovely book, Our shared knowledge makes us wise. And our wisdom makes us successful."
—Archbishop Desmond Tutu, Nobel Peace Laureate

"The beauty of metaphor is that it communicates meaning, not just information, which is why I learned so much from this book about diversity, corporate culture, and organizational transformation—lessons I will never forget."
—Warren Bennis, author of On Becoming a Leader

"Every once in a while a small book comes along that deals with a profound subject in a very simple, elegant way. A Peacock in the Land of Penguins is such a book."
—Ken Blanchard, coauthor of The One Minute Manager

"A lighthearted treatment of a difficult problem, this story reminds us of what we are really after in our diversity efforts."
—Ann M. Morrison, coauthor of Breaking the Glass Ceiling

"Insightful and witty . . . Gallagher and Schmidt have captured an essential truth about navigating the stormy seas of the contemporary workplace—from the strength of differences we can truly make a difference."
—Jim Kouzes, coauthor of The Leadership Challenge
Berrett-Koehler Publishers, 9781626562431, 192pp.
Publication Date: January 5, 2015
About the Author
BJ Gallagher is an accomplished management consultant, a popular speaker, and the prolific author of thirty books, including Being Buddha at Work and Yes Lives in the Land of No. She spent five years as the manager of training and development for the Los Angeles Times prior to founding her own human resources consulting company.

Warren H. Schmidt is a professor emeritus at the University of Southern California and the coauthor of The Race without a Finish Line and TQManager. He has also written many educational and management films, including the Academy Award–winning animated short Is It Always Right to Be Right?

Ken Blanchard is founder and chief spiritual officer of the Ken Blanchard Companies and is one of the world's most prominent authors, speakers, and consultants. He is the author or coauthor of more than sixty books.