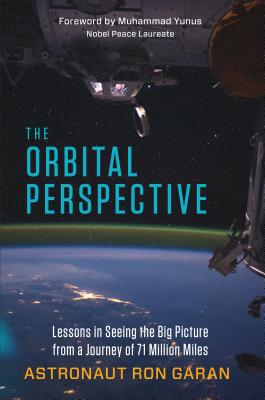 The Orbital Perspective
Lessons in Seeing the Big Picture from a Journey of 71 Million Miles
Hardcover

* Individual store prices may vary.
Other Editions of This Title:
Digital Audiobook (1/31/2015)
MP3 CD (2/1/2015)
Compact Disc (2/1/2015)
Description
For astronaut Ron Garan, living on the International Space Station was a powerful, transformative experience—one that he believes holds the key to solving our problems here on Earth.

On space walks and through windows, Garan was struck by the stunning beauty of the Earth from space but sobered by knowing how much needed to be done to help this troubled planet. And yet on the International Space Station, Garan, a former fighter pilot, was working work side by side with Russians, who only a few years before were "the enemy." If fifteen nationalities could collaborate on one of the most ambitious, technologically complicated undertakings in history, surely we can apply that kind of cooperation and innovation toward creating a better world. That spirit is what Garan calls the "orbital perspective."

Garan vividly conveys what it was like learning to work with a diverse group of people in an environment only a handful of human beings have ever known. But more importantly, he describes how he and others are working to apply the orbital perspective here at home, embracing new partnerships and processes to promote peace and combat hunger, thirst, poverty, and environmental destruction. This book is a call to action for each of us to care for the most important space station of all: planet Earth. You don't need to be an astronaut to have the orbital perspective. Garan's message of elevated empathy is an inspiration to all who seek a better world.
Praise For The Orbital Perspective: Lessons in Seeing the Big Picture from a Journey of 71 Million Miles…
"Life on Earth is experienced two-dimensionally—with all of the distortion that that implies. Such a blinkered view is impossible from orbit, where you take in whole sweeps of the borderless globe in a glance. Garan's book, The Orbital Perspective movingly explains the impact of such a perspective shift—one that by no means occurs for every astronaut. In Garan's case—and perhaps Garan's alone—the message is how the rest of us can put his lessons to use. The Orbital Perspective could wind up being the most important tale ever told from space."
—Jeffrey Kluger, Time Magazine

"His thesis that 'Earth is a small town with many neighborhoods in a very big universe' rings powerfully true, and his lessons are particularly apt for those working in the nonprofit sector."
—Publishers Weekly

"The Orbital Perspective is an inspirational knockout. After reading this book you will refuse to accept the status quo on our planet."
—Wladimir Klitschko, PhD, Undisputed Heavyweight Champion of the World and founder of Klitschko Management Group

"This is more than just a book; it is a call to action and a catalyst for a necessary movement. We need to look beyond what we think is possible and reimagine a world in which no one is limited by his or her circumstances. This is a defining book for a defining time in human history."
—Daniel Epstein, founder and CEO, Unreasonable Group

"Written from Ron Garan's unique perspective as an astronaut, The Orbital Perspective reminds us of our common humanity and that the pressing challenges we face, we must face and resolve together through tolerance, dialogue, and cooperation."
—Kofi A. Annan, Nobel Peace Laureate and Chair, Kofi Annan Foundation

"It is said that to understand a problem properly you need to get outside of it. Ron Garan has certainly done that. Ron's focus is on finding new connections and collaborations that cross borders of all sorts that might just allow us to transform the world for the better before we destroy this big blue ball we call home."
—Peter Gabriel, musician and a founder of WOMAD, Witness, and The Elders

"Ron Garan's breakthrough book is one of a kind. Never before has a firsthand account of lessons learned in space been applied to firsthand humanitarian development work on Earth. Ron masterfully synthesizes the big-picture view of our world with the ground-level details necessary to overcome the barriers to improving life for all people"
—Jimmy Wales, founder of Wikipedia

"Astronaut Ron Garan's fabulous book will transport you from the magnificent sense of possibility in outer space to the perspective of a worm on Earth's rich soil and will reassert our fundamental connection to one another in ways that challenge and inspire. We all need more of an orbital perspective to remind us that, in the end, we only have each other."
—Jacqueline Novogratz, CEO, Acumen, and author of The Blue Sweater

"A wonderful call to shift our point of view from local to global, from myopic to orbital. This consciousness-altering, ego-dissolving, mind-reconfiguring experience renders our common purpose clear: we are the frontal lobes of this Pale Blue Dot and we need to leverage our collective genius to overcome our challenges and unleash our potential. Bravo!"
—Jason Silva, filmmaker, media artist, and host of National Geographic Channel's Brain Games

"Put a humanitarian into a spacesuit and keep sending him into space and books like this are bound to be written. You see, global problems can have a personal solution."
—Keith Cowing, Executive Director, Space College Foundation 
Berrett-Koehler Publishers, 9781626562462, 208pp.
Publication Date: February 2, 2015
About the Author
Col. Ron Garan (USAF ret.) is a decorated fighter pilot, astronaut, aquanaut, and entrepreneur. He has logged 178 days in space and 71 million miles in orbit. He is the founder of the nonprofit social enterprise incubator Manna Energy Foundation and has worked with the US Agency for International Development. Garan is also the founder of Fragile Oasis, an effort to use the orbital perspective to inspire positive social and environmental action.
or
Not Currently Available for Direct Purchase