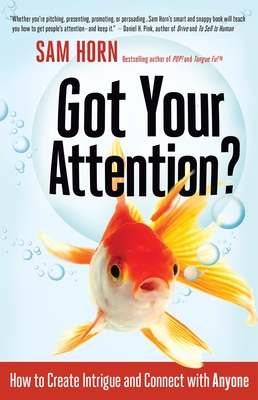 Got Your Attention? (Paperback)
How to Create Intrigue and Connect with Anyone
Berrett-Koehler Publishers, 9781626562509, 216pp.
Publication Date: April 6, 2015
Other Editions of This Title:
Digital Audiobook (4/30/2015)
Paperback, Large Print (4/6/2015)
* Individual store prices may vary.
Description
GOLD MEDALIST IN THE 2015 FOREWORD REVIEWS' INDIEFAB AWARDS IN CAREER!

Did you know:

• Goldfish, yes, goldfish, have longer attention spans than we humans do?

• One in four people abandons a website if it takes longer than four seconds to load?

Imagine if there were ways, in a world of impatience and INFObesity, to quickly intrigue busy, distracted people and earn their interest, trust and buy-in?

Imagine if there was a process for pleasantly surprising decision-makers and convincing them you're the right person for the job, position, project or contract?

You don't have to imagine it, Sam Horn has created it. Sam's innovative techniques have helped her clients close deals and raise millions of dollars and will be your "secret sauce" to getting funded, hired, elected, promoted or referred.
About the Author
Sam Horn, the Intrigue Expert, is an international keynoter and communications strategist who has trained the world's top entrepreneurs and executives. Her books POP! and Tongue Fu! have been featured in the New York Times and Fast Company and on MSNBC. She has given a TEDx Talk, served as pitch coach for the British Airways Face2Face competitions, and is the former executive director and emcee of the Maui Writers Conference.
Praise For Got Your Attention?: How to Create Intrigue and Connect with Anyone…
"Whether you're pitching, presenting, promoting, or persuading, you need to know how to be heard above the din. Sam Horn's smart and snappy book will teach you how to get people's attention—and keep it."
—Dan Pink, author of To Sell Is Human and Drive

"If you can't get people's attention, you'll never get their business. Sam Horn's new book shows how to quickly win respect so people are motivated to listen."
—Terry Jones, Founder of Travelocity and WayBlazer, and Chair of Kayak

"Every entrepreneur, executive and educator will benefit from reading this brilliant book."
—Amy Wilkinson, former White House Fellow and author of The Creator's Code

"Innovative ideas for initiating genuine conversations and meaningful connections that turn strangers into friends."
—Keith Ferrazzi, author of the #1 New York Times bestseller Never Eat Alone

"These techniques for engaging employees and customers by focusing on their needs and priorities first … are a must for every leader."
—Marshall Goldsmith, Thinkers 50 Top Ten Global Business Thinker

"I thought I'd already heard everything on this subject, but from the first ten seconds of skimming, Sam's riveting stories sucked me right in. This is the most down-to-earth, inspiring, and actionable(!) book I've ever seen about how to get people's attention. I'm recommending it to everyone I know."
—Derek Sivers, TED speaker on "First Follower" and founder of CD Baby

"Not only is it possible to influence with integrity; it's preferable. This book shows how."
—Dr. Joan Fallon, founder of Curemark and winner of a 2014 Gold Stevie Award for "Maverick of the Year"

"Sam's new book is everything she recommends: True, New, Efficient, Engaging, Interactive and actionable. Sam lives all of these things, and she's given us a guide to do so, too!"
—Robert Wolcott, founder and Executive Director, KIN Global, Northwestern University

"Sam Horn is the best listener—and conversationalist—I know. This fast, insightful read will help anyone who wants to establish authentic, productive connections with other people, at work and at home."
—Mariah Burton Nelson, Vice President of Innovation and Planning, American Society of Association Executives

"Looking for innovative ways to explain what you do and get across the value of what you have to offer? This book is for you."
—Saul Kaplan, founder, Business Innovation Factory

"Don't even think about preparing a pitch, proposal or presentation without first reading Got Your Attention?"
—Kay Koplovitz, founder of USA Networks and cofounder and Chairman, Springboard Enterprises

"Powerful insights on how to build a movement that lasts and create authentic connections with volunteers, donors, strategic partners, and anyone who interacts with your brand."
—Adam Braun, founder of Pencils of Promise

"A must read for anyone in the workplace who wants to contribute at their highest level and create more strategic networks."
—Betsy Myers, Former Executive Director, Center for Public Leadership, Harvard, Kennedy School

"Sam Horn asks and answers the question so many of us are struggling with: What does it take to really connect with people in a culture of impatience and alienation? A user-friendly gem."
—Elizabeth Lesser, cofounder of Omega Institute and author of Broken Open

"These accessible techniques transcend generations and read like a modern-day version of How to Win Friends and Influence People."
—Miki Agrawal, Forbes "Top 20 Millennials on a Mission" and founder of THINX

"Thought-provoking insights on how to be clear and concise."
—Roger Hunter, NASA Project Manager and TEDxUGA speaker on "Earth's Backup Plan"

"I've interviewed Sam on my show. She rocks and so does this book."
—John Lee Dumas, founder and host of the #1 ranked business podcast, Entrepreneur on Fire