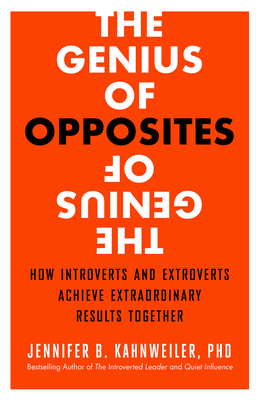 The Genius of Opposites (Paperback)
How Introverts and Extroverts Achieve Extraordinary Results Together
Berrett-Koehler Publishers, 9781626563056, 168pp.
Publication Date: August 17, 2015
Other Editions of This Title:
Hardcover (8/17/2015)
* Individual store prices may vary.
Description
Better Together

FDR and Eleanor. Mick and Keith. Jobs and Woz. There are countless examples of introvert-extrovert partnerships who make brilliant products, create great works of art, and even change history together. But these partnerships don't just happen. They demand wise nurturing.

The key, says bestselling author Jennifer Kahnweiler, is for opposites to stop emphasizing their differences and use approaches that focus them both on moving toward results. Kahnweiler's first-of-its-kind practical five-step process helps introverts and extroverts understand and appreciate each other's wiring, use conflicts to spur creativity, enrich their own skills by learning from the other, and see and act on things neither would have separately. Kahnweiler shows how to perform the delicate balancing act required to create a whole that is exponentially greater than the sum of its parts.
About the Author
Jennifer B. Kahnweiler, PhD, is a bestselling author and global keynote speaker known as the "champion for introverts." As a thought leader on introverted leadership, she has worked with major organizations including GE, NASA, CNN, and the CDC.
Praise For The Genius of Opposites: How Introverts and Extroverts Achieve Extraordinary Results Together…
"The power of dynamic duos has never been more clearly stated. Jennifer Kahnweiler shares hands-on insight on how to work with (and make magic with) people who have skills very different from your own."
—Seth Godin, author of The Icarus Deception

"Kahnweiler is here to teach introverts and extroverts how to collaborate productively and happily—and that's huge. You'll get something valuable from this book no matter where you fall on the continuum."
—Daniel H. Pink, author of To Sell Is Human and Drive

"This book captures how introverts and extroverts can leverage their differences to achieve excellent results together."
—Adam Grant, Professor of Management, Wharton School and New York Times bestselling author of Give and Take

"This groundbreaking book will help organizations truly committed to diversity both understand and leverage the power of difference."
—Suzanne Richards, Vice President of Diversity and Inclusion, Freddie Mac

Kahnweiler (Quiet Influence) asserts that introvert-extrovert relationships are most successful when opposites stop focusing on their dissimilarities and apply approaches that steer them towards results. She posits a five-step, "ABC" process by which to do this: accept the alien, bring on the battles, cast the character, destroy the dislike, and realize that each can't offer everything. Her advice to both intro- and extroverts to be patient with and learn from the other promises superior results. VERDICT: Helpful in comprehending and appreciating the differences in others.
Library Journal