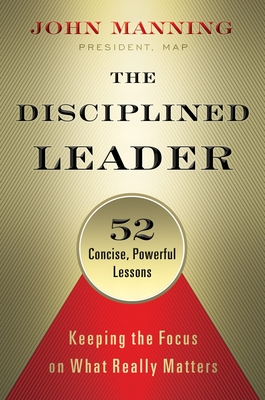 The Disciplined Leader
Keeping the Focus on What Really Matters
Hardcover

* Individual store prices may vary.
Other Editions of This Title:
MP3 CD (12/1/2015)
Compact Disc (12/1/2015)
Description
What do the best leaders have in common? As president of MAP, John Manning should know. MAP has helped tens of thousands of top executives accelerate their leadership and management performance. Manning says the answer is one word: discipline. But for Manning, discipline has a very specific meaning.

All leaders have scores of things they could do. But a disciplined leader is one who identifies and focuses on the Vital Few: the 20 percent of activities that will drive 80 percent of the results. And the results that are most important are those tied to the organization's most precious asset: its people.

The Disciplined Leader offers fifty-two succinct lessons to help you home in on your own Vital Few in three critical areas: leading yourself, leading your team, and leading your organization. Each lesson comes with recommended tactics and practical "Take Action!" tips for implementing it, so there are literally hundreds of pieces of must-know, time-tested advice here. The chapters are self-contained, so you can read them in any order and come back to the ones that resonate with you—your own Vital Few! This is a hands-on, nuts-and-bolts guide to leadership practice that's built to inspire action, drive change, and achieve results.
Praise For The Disciplined Leader: Keeping the Focus on What Really Matters…
"Peter Drucker famously said 'Management is doing things right; leadership is doing the right things.' John Manning shows you exactly how to identify those right things and get them done as effectively as possible!"
—Marshall Goldsmith, author of the New York Times and global bestseller What Got You Here Won't Get You There

"Make space on your bookshelf for The Disciplined Leader. John Manning shows any leader, whether CEO or small department manager, how to identify the Vital Few keys to success and hold people accountable, thereby delivering results. The principles and processes are straightforward and can be acted upon immediately."
—Lloyd Lenson, Chief Operating Officer, CORT, A Berkshire Hathaway Company

"We must all evolve as leaders, and this book provides an invaluable framework for keeping leaders focused on the right things, providing accountability tools for management to stay on track and ensuring the right balance between great ideas, strategy, and execution."
—Elise Buik, President and CEO, United Way of Greater Los Angeles

"The information that John Manning provides here is an indispensable resource for any leader. This approach helped guide us from our start as a small regional firm to becoming a national company and ultimately a global organization."
—Guillermo de la Viña, CEO, Sigue Corp.

"The Disciplined Leader is a concise compilation of tips that have helped us focus on what is most important. This book is a great resource for anyone wanting to build a stronger team and become a disciplined leader."
—Tammy Miller, CEO, Border States Electric

"Being a disciplined leader is not about working more and harder than everyone else. It's about ensuring that every action you take exudes consistency, courage, and humility. The Disciplined Leader is an invaluable guide to help today's C-level executives succeed—it's required reading for my entire management team."
—David Berman, President, RingCentral

"The Disciplined Leader emphasizes the key leadership fundamentals of passion, commitment, and people while stressing the importance of focus. The lessons are powerful and relevant for anyone in a leadership or management position."
—Kelly Wright, Executive Vice President, Sales, Tableau Software
Berrett-Koehler Publishers, 9781626563254, 288pp.
Publication Date: June 15, 2015
About the Author
John Manning is president of Management Action Programs, Inc. He has diverse experience in business leadership, having held executive positions in Fortune 500 companies in operations, marketing, and sales. Formerly the director of operations for McKesson Water Products, Inc., he was also part of a leadership team that took the company national. This move made McKesson one of the largest bottled-water companies in the United States.

Katie Roberts is a freelance business and marketing writer/editor. She is a former television reporter, award‐winning magazine editor and writer, and a nonprofit business organization founder/director.