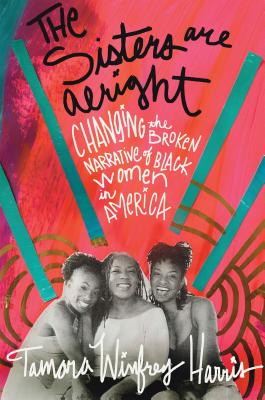 The Sisters Are Alright
Changing the Broken Narrative of Black Women in America
Paperback

* Individual store prices may vary.
Description
GOLD MEDALIST OF FOREWORD REVIEWS' 2015 INDIEFAB AWARDS IN WOMEN'S STUDIES

What's wrong with black women? Not a damned thing!

The Sisters Are Alright exposes anti–black-woman propaganda and shows how real black women are pushing back against distorted cartoon versions of themselves.

When African women arrived on American shores, the three-headed hydra—servile Mammy, angry Sapphire, and lascivious Jezebel—followed close behind. In the '60s, the Matriarch, the willfully unmarried baby machine leeching off the state, joined them. These stereotypes persist to this day through newspaper headlines, Sunday sermons, social media memes, cable punditry, government policies, and hit song lyrics. Emancipation may have happened more than 150 years ago, but America still won't let a sister be free from this coven of caricatures.

Tamara Winfrey Harris delves into marriage, motherhood, health, sexuality, beauty, and more, taking sharp aim at pervasive stereotypes about black women. She counters warped prejudices with the straight-up truth about being a black woman in America. "We have facets like diamonds," she writes. "The trouble is the people who refuse to see us sparkling."
Praise For The Sisters Are Alright: Changing the Broken Narrative of Black Women in America…
"This energetic, passionate, and progressive mission statement illuminates old stereotypes that continue to dog black women today. Winfrey-Harris amplifies the voices of African-American women speaking for themselves, and the results are powerful, relevant, and affirming."
-Publisher's Weekly

"Harris challenges age-old constructions of black womanhood with real-life accounts from black mothers, daughters, aunties, and girlfriends who reject the popular narrative of brokenness."
-Jason Parham, Gawker

"Using a combination of anecdotal evidence, historical research, and well-documented facts and studies, Harris has compiled an engaging and informative treatise on black womanhood in America."
-Lori L. Tharps, The Washington Post

"The Sisters Are Alright enters a space where we're publicly contemplating race — and blackness in particular — quite a bit lately. That public contemplation has been fraught with a mixture of frustration, grief and anger at the way black people are treated and the way black bodies are viewed in the United States."
-Soraya Nadia McDonald, The Washington Post

"The Sisters are Alright: Changing the Broken Narrative for Black Women in America challenges stereotypical portrayals of black women and highlights the need for nuanced, complex characters.
- Ariel Cheung, USA Today

With its insightful blend of personal narrative, cultural critique and reflective interview, your book follows in the critical and literary footsteps of such feminist/womanist writers as Michele Wallace, Patricia Hill Collins and bell hooks.  Similar to these authors, you unpack the often damaging effect the myth of the self-sacrificing black superwoman has on black women's mental health and wellness."
-Sikivu Hutchinson, The Feminist Wire

"One of the things I loved about [this] book was how it emphasized how self-love could help radically shift some of these perspectives. [This] book really tackles specific stereotypes that shape the way American culture perceives black women."
-Arielle Bernstein, Rumpus

"Through explorations of marriage, motherhood, health, sexuality, beauty and more, Tamara Winfrey Harris counters warped prejudices by going far beyond the trope of Black women portrayed in American media. The Sisters Are Alright exposes anti–Black-woman propaganda and shows the truth of what it's like to be a Black woman in America, a counter-narrative to the distorted depictions of themselves Black women are so often subject to."
-Amani Ariel, Blavity

"The book pairs Harris' impeccable writing with stories of Black women and how they have been shaped by the stereotypes that are dictating how we view those around us."
-Emily Taylor, NUVO


"The Sisters are Alright: Changing the Broken Narrative of Black Women in America, Winfrey Harris' first book, tackles long-standing stereotypes and misconceptions steeped in racism and misogyny surrounding Black women's sexuality, beauty, health and more. Included are interviews she conducted with hundreds of Black women of different ages and backgrounds."
-Ebony Chappel, Indianapolis Recorder

"[Winfrey Harris] speaks to real Black women, relaying the fact we are not as broken as society paints us to be. After all, we are the fastest growing group of entrepreneurs in America, we have to be doing something right."
-Chelcee Johns, Madame Noir

"The Sisters Are Alright invites Black women, and those who love and care about Black women to reject this age-old stereotype in favor of a more expansive and progressive notion of women's sexuality."
-Susana Morris, About News

"Winfrey Harris' book comes with us, both the celebrities and the sistahgurl down the street, letting us speak our own lives to power in this moment on our own terms."
-Andrea Plaid, Feminist Wire

"Winfrey-Harris uses her distinctive voice to explore how Black women are thriving despite the odds stacked against us. She explores everything from marriage to sexuality in a way that will definitely cause affirmative head nods as reading."
-Evette Dionne, Clutch Mag

"It's a book that reminds me that I'm not alone, and that I'm not crazy. All those moments I felt insecure or inadequate as a young adult — a young adult without many Black girlfriends until I became a young adult — weren't simply psychosomatic. By utilizing the anecdotes of other Black women, Winfrey Harris inspired me to wonder how my story might resonate with others, just as theirs resonate with me."
-Akirah Robinson, 1839 Mag

"Tami Winfrey Harris provides some answers from both a historical and contemporary perspective. She argues that because of a pervasive public opinion about black women, assaults against them are often not perceived as newsworthy.
Winfrey Harris's book shows us that public representations of black women can be beneficial when the women involved are in control."
-Laina Dawes, Hazlitt

"This book is a gift. With just the right mix of sister wit, statistical information, and a few well-timed rhetorical side-eyes, The Sisters Are Alright rushes in to save black women from the stereotypes that threaten to dull our shine."  
—Brittney Cooper, PhD, Assistant Professor of Women's and Gender Studies and Africana Studies, Rutgers University

"Winfrey Harris [digs] into the project of remaking representations of black women as they truly are—joyfully diverse, indelibly complex, and powerful architects of their own narratives."
—Andi Zeisler, cofounder and Editorial/Creative Director, Bitch Media

"Winfrey Harris sets the record straight. This is a love letter to all the sisters—beautifully human and gorgeously flawed. Reading this book I felt seen, heard, and deeply understood. This is self-care between two covers."
—Tayari Jones, author of Silver Sparrow

Berrett-Koehler Publishers, 9781626563513, 168pp.
Publication Date: July 7, 2015
About the Author
Tamara Winfrey Harris is a writer whose work has appeared in the Chicago Sun-Times, In These Times, and Ms. and Bitch magazines and online at the American Prospect, Salon, the Guardian, Newsweek/Daily Beast, xoJane, the Huffington Post, Psychology Today, Clutch magazine, and Change.org. She has been called to address women's issues in major media outlets, such as NPR's Weekend Edition. The Sisters Are Alright is Foreword Reviews' 2015 INDIEFAB Book Awards in Women's Studies.
or
Not Currently Available for Direct Purchase