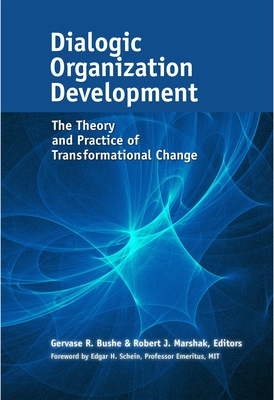 Dialogic Organization Development (Hardcover)
The Theory and Practice of Transformational Change
Berrett-Koehler Publishers, 9781626564046, 456pp.
Publication Date: May 26, 2015
* Individual store prices may vary.
Description
A Dynamic New Approach to Organizational Change
Dialogic Organization Development is a compelling alternative to the classical action research approach to planned change. Organizations are seen as fluid, socially constructed realities that are continuously created through conversations and images. Leaders and consultants can help foster change by encouraging disruptions to taken-for-granted ways of thinking and acting and the use of generative images to stimulate new organizational conversations and narratives. This book offers the first comprehensive introduction to Dialogic Organization Development with chapters by a global team of leading scholar-practitioners addressing both theoretical foundations and specific practices.
About the Author
Gervase R. Bushe is professor of leadership and organization development at the Beedie School of Business, Simon Fraser University, and is a two-time winner of the Douglas McGregor Award.
Robert J. Marshak is distinguished scholar in residence at the School of Public Affairs, American University. He has received the OD Network's Lifetime Achievement Award.
Praise For Dialogic Organization Development: The Theory and Practice of Transformational Change…
"The wisdom and experience captured between the covers of this book are truly impressive, and the authors bring the insights of our age to bear on the questions at hand with a useful and powerful effect. Definitely a good read."
—Harrison Owen, creator and author of Open Space Technology

"Bushe and Marshak, together with an amazing collection of other leaders in the field, have challenged much in our past yet somehow also achieved a joyous homecoming to what matters most in OD—the democratic, dialogic, jointly created design of the fully human organization."
—David Cooperrider, Fairmount Santrol–David L. Cooperrider Professor in Appreciative Inquiry, Case Western Reserve University

"Gervase Bushe and Bob Marshak have conceptualized OD in a way that is novel and integrates crucial foundational principles. This book will be central to the scholarship and practice of OD for years to come."
—Jean M. Bartunek, Robert A. and Evelyn J. Ferris Chair and Professor of Management and Organization, Boston College

"An absolute must-read book for academics, practitioners, and students who claim to have an interest in processes of planned organizational change, presenting thoughtful and thought-provoking insights that are both conceptually rich and pragmatically grounded. Writing an endorsement is easy when a book is this good!"
—Cliff Oswick, Professor of Organization Theory and Deputy Dean, Cass Business School, City University London

"Dialogic Organization Development takes our field into exciting new territory, rich with possibility for enlivening organizations and communities through being able to change the conversation and thus change the future."
—Juanita Brown, creator and coauthor of The World Café

"This timely new book promises to further energize and advance the field of OD during a time when we need all the help we can get in terms of designing and effectively managing complex organizations. This volume represents a significant contribution to the literature of the field."
—Richard W. Woodman, Texas A & M University and former editor of the Journal of Applied Behavioral Science

"In this outstanding collection, one gets a clear sense that 'dialogic' is bringing OD into the new, contemporary contexts, so real today, and so different from the contexts in which foundational OD was developed."
—David W. Jamieson, University of St Thomas and author of Consultation for Organizational Change

"Dialogic Organizational Development moves beyond the stability biased as- sumptions of social science and allows us to feel, see, think and act in new ways. It is a key contribution."
—Robert E. Quinn, University of Michigan and author of Deep Change and Change the World

"This is an exciting and much needed book! Bushe and Marshak with the help of a global team of scholar-practitioners have brought us a comprehensive discussion that pulls together the latest thinking and practices shaping the field of Organiza- tion Development. This is a book you will return to many times!"
—Mee-Yan Cheung-Judge, Director of Quality & Equality Ltd., UK, and co-author of Organisation Development: A Practitioner's Guide for OD and HR

"Dialogic Organization Development will prove to be a milestone in the evolution of organization development. This volume provides both an essential orientation as well as pragmatic advice for employing an arsenal of impactful techniques."
—Loizos Heracleous, Warwick Business School and associate fellow, Oxford University

"Dialogic Organization Development, provides a 'must have' guide book for organi- zations wishing to constructively and sustainably embed themselves in emerging economies that are in the throes of radical transformation."
—Theo H. Veldsman, University of Johannesburg, South Africa

"Dialogic Organization Development is a truly pioneering work that puts the fo- cus back on the heart of OD – the spirit of inquiry. Instead of change driven by diagnosing how to align organizational elements with the demands of the broader environment, Dialogic OD concerns itself with how to induce new ways of thinking by engaging with the organizational conversations that create and frame under- standing and action."
—S. Ramnarayan, Indian School of Business and co-author of Change Management: Altering Mindsets in A Global Context

"This is a perfect book for consultants or corporate executives who not only want to innovate and be more effective in Organization Development but want to know and better understand why and how human dynamics are so relevant."
—Anna Simioni, Leadership and Change Practice Lead, Boston Consulting Group, Italy, Greece and Turkey

"This exciting and comprehensive book is the first and only book to deeply and fully describe the origins, root assumptions, and key practices of Dialogic OD and is a source of many new ideas and insights about organizational consulting and change."
—Kazuhiko Nakamura, Nanzan University, Japan

"OD is in the midst of its own transformation. Dialogic Organization Development, with its A-list of authors and contributors, is the much needed book that puts the stake in the ground upon which that transformed future will be built."
—Ian Palmer, RMIT University, Australia

"Gervase Bushe and Bob Marshak offer a comprehensive approach to organization- al change that reinvigorates our conversation about OD and helps us re-imagine the theories and approaches that inform our consulting practices. This is a valuable resource for both graduate OD courses and OD practitioners."
—John Vogelsang, Editor-in-Chief, OD Practitioner

"Dialogic Organization Development brings a much-needed focus on the less ra- tional and mechanistic processes that honor the emergence of new meaning, new thinking, and new understanding of the systems we work and live in. This unusu- ally well integrated anthology will certainly disrupt the status quo of prevailing contemporary OD practices."
—John D. Adams, Emeritus Professor, Saybrook University and author of Transforming Work

"Dialogic Organization Development closes a painful gap in the scientific com- munity and among practitioners. It will certainly be a valuable contribution to important research in the field of applied sciences. I hope this new volume, with its rich variety of contributions will find a broad reception, especially in Europe."
—Rudolf Wimmer, Universität Witten/Herdecke, Germany

"Dialogic Organization Development brings together an impressive international group of scholars and practitioners to clarify the conceptual foundations and provide practical illustrations of what OD may be in a contemporary context. In a Scandinavian context, Dialogic OD resonates with a long, social-constructionist and interpretive tradition in organization theory."
—Andreas Werr, Stockholm School of Economics

"Superbly edited by Gervase Bushe and Robert Marshak, the chapters in this book, which introduce Dialogic OD into the language of management, are so brilliantly crafted they could have been written by Kurt Lewin himself."
—Academy of Management Learning and Education Journal