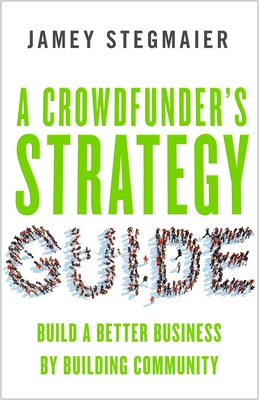 A Crowdfunder's Strategy Guide (Paperback)
Build a Better Business by Building Community
Berrett-Koehler Publishers, 9781626564084, 216pp.
Publication Date: September 14, 2015
Other Editions of This Title:
Paperback, Large Print (9/14/2015)
* Individual store prices may vary.
Description
More Than Money

Jamey Stegmaier knows crowdfunding. He's a veteran of seven successful Kickstarter campaigns (and counting) that have raised over $3.2 million, and he's the proprietor of the widely read Kickstarter Lessons blog. In this book he offers a comprehensive guide to crowdfunding, demonstrating that it can be a powerful way for entrepreneurs to grow their businesses by building community and putting their customers first.

This book includes over forty stories of inspiring successes and sobering disasters. Stegmaier uses these examples to demonstrate how to (and how not to) prepare for a campaign, grow a fan base, structure a pitch, find new backers, and execute many other crucially important "nuts and bolts" elements of a successful crowdfunding project.

But Stegmaier emphasizes that the benefits of crowdfunding are much more about the "crowd" than the "funding." He shows that if you treat your backers as people, not pocketbooks—communicate regularly and transparently with them, ask their opinions, attend to their needs—they'll become advocates as well as funders, exponentially increasing your project's chances of succeeding.
About the Author
Jamey Stegmaier is president and cofounder of Stonemaier Games and has been designing board games for most of his life. He is also a writer and blogger. He lives in St. Louis with his cats, Biddy and Walter.
Praise For A Crowdfunder's Strategy Guide: Build a Better Business by Building Community…
"While many small businesses turn to crowdfunding to raise funds, not many attempts are successful.  Stegmaier's seven successful Kickstarter campaigns, and the successful and failed attempts of others, helped him create a crowdfunding template for increasing the odds of success." 
-Jim Pawlak, - Biz Books, Syndicated Columnist and member of the National Book Critic's Circle

"A Crowdfunder's Strategy Guide is authoritative and comprehensive, yet easy to read. This book should do much to answer basic questions about crowdfunding and provide those interesting in using crowdfunding with a valuable playbook."
- Foreward Magazine (Barry Silverstein, Winter 2016)

"Stegmaier (founder, Stonemaier Games) uses his experiences funding a game company through Kickstarter to offer a fun and readable guide to running a crowdfunding campaign. He treats a Kickstarter campaign as a serious business requiring planning, thought, and networking. Stegmaier's approach encourages building trust with buyers and suggests that crowdfunders secure support and a strong community online well before launching any funding initiative. He bolsters his recommendations with statistics and stories from other crowdfunders and advocates running a campaign centered on the patrons. The book includes advice about how to tackle specific challenges along with a good dose of business philosophy. Although this title could be used for running campaigns on other sites, it concentrates on working with Kickstarter. A more personal, succinct read for anyone who enjoyed Sherwood Neiss et al.'s Crowdfunding Investing for Dummies. VERDICT: A must-read for any aspiring game designer, this is also a well-organized, enjoyable, and useful book for anyone considering crowdfunding a project."
-Library Journal (Jessica Spears, Monroe Coll. Lib., Bronx, NY)

"Even after twenty successful crowdfunding projects and over $1,500,000 raised, I turn to Jamey if I have questions. He knows his stuff."
—Michael Mindes, founder and CEO, Tasty Minstrel Games

"A crowdfunding campaign gives an entrepreneur the opportunity for a very public success or a very public failure. Jamey Stegmaier reveals his proven playbook for success."
—Clifford Holekamp, Senior Lecturer in Entrepreneurship, Washington University in St. Louis

"You would be hard-pressed to find anyone who has contributed more to creating a formula for a successful tabletop Kickstarter campaign than Jamey Stegmaier."
—James Mathe, President, Minion Games

or
Not Currently Available for Direct Purchase