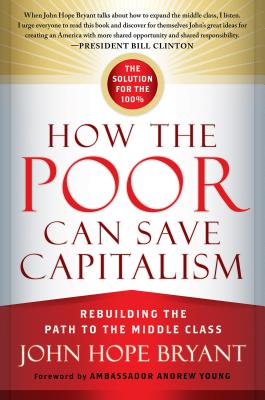 How the Poor Can Save Capitalism (Paperback)
Rebuilding the Path to the Middle Class
Berrett-Koehler Publishers, 9781626565579, 176pp.
Publication Date: October 5, 2015
* Individual store prices may vary.
Description
Prosperity for All

In this visionary book, Operation HOPE founder and successful businessman John Hope Bryant offers a strategy for revitalizing the American dream by investing in the prosperity and education of disadvantaged communities. He exposes the historical roots of poverty, explains why the solutions tried so far have proved insufficient, and lays out what he calls the HOPE Plan, a series of straightforward, actionable steps to build financial literacy and expand opportunity. Consumer spending drives 70 percent of the American economy, but too many people have too much month left at the end of their money. Bryant shows how we can create a thriving economy that works not just for the 1 percent or even the 99 percent but for the 100 percent.
About the Author
John Hope Bryant is an entrepreneur, author, and advisor and one of the nation's most recognized empowerment leaders. He is the founder, chairman, and CEO of Operation HOPE and Bryant Group Companies. Recognized as one of Time magazine's "50 for the Future" leaders, Bryant is the author of Love Leadership and is the only African-American bestselling business author. He served as chairman of the President's Advisory Council on Financial Capability, Subcommittee on the Underserved and Community Empowerment, and was appointed by President Obama in 2014 as a member of the President's Advisory Council on Financial Capability for Young Americans. He is also cofounder of the Gallup-HOPE Index, the only national research poll on youth financial dignity and youth economic energy in the United States.
Praise For How the Poor Can Save Capitalism: Rebuilding the Path to the Middle Class…
"John has provided the road map to economic recovery for this country at a time when economic inequality is at its peak. I for one will be following the steps laid out in the HOPE Plan."
—Van Jones, former advisor to President Obama and host of CNN's Crossfire

"This book lays out a clear and actionable path to address some of the issues that led my father to call for a poor people's campaign . . . You will have a different perspective on poverty when you finish reading this book and realize that in order to secure our economy, we must ensure that everyone is given a fair and just opportunity to prosper."
—Dr. Bernice A. King, daughter of Martin Luther King, Jr., and CEO, The King Center

"John Hope Bryant offers a compelling argument to build both capitalism and communities through the advancement of financial literacy among the poor and middle class. He enlivens the American dream."
—William H. Rogers, Jr., Chairman and CEO, SunTrust Banks, Inc.