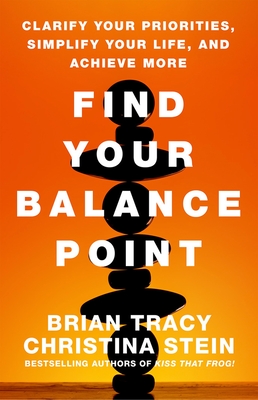 Find Your Balance Point (Hardcover)
Clarify Your Priorities, Simplify Your Life, and Achieve More
Berrett-Koehler Publishers, 9781626565722, 128pp.
Publication Date: September 1, 2015
* Individual store prices may vary.
Description
Accomplish what matters most

Because we all have too much to do, it feels like our lives are out of balance. But Brian Tracy and Christina Stein argue that imbalance results not so much from doing too much but from doing too much of the wrong things. They provide a process that enables you to sort out what is most important to you from among the many activities you could focus on. When you can efficiently identify and accomplish what really matters to you, you've found your balance point.
About the Author
Brian Tracy is chairman and CEO of Brian Tracy International. As a keynote speaker and seminar leader, he addresses more than 250,000 people each year. He is the bestselling author of more than fifty books that have been translated into dozens of languages.

Christina Stein is a speaker, author, and psychotherapist who focuses on work-life balance and female empowerment. She works with individuals and couples and conducts workshops to help attendees align their priorities and goals with their skills and passions. She combines her training as a marriage and family therapist with her experience as a life coach to work empathically and dynamically with her clients.
Praise For Find Your Balance Point: Clarify Your Priorities, Simplify Your Life, and Achieve More…
"This warm, insightful book shows you how to save yourself months and years of your precious time by not doing things you don't enjoy, with people you don't care about."
—Laura Stack, The Productivity Pro®, author of What to Do When There's Too Much to Do

"As a busy mother and entrepreneur, I adore the strategies and techniques Christina and Brian share to help me create a life that I love. Wish I had this book earlier in my career, but it's never too late to create inner harmony and outer success in every part of your life."
—Kristin Arnold, President, The Extraordinary Team, and Past President, National Speakers Association

"In this inspiring book, you learn how to determine what is really important to you and then organize your life around your inner values, beliefs, and goals."
—Dianna Booher, author of What More Can I Say? and Creating Personal Presence