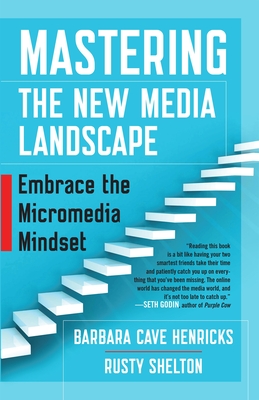 Mastering the New Media Landscape
Embrace the Micromedia Mindset
Paperback

* Individual store prices may vary.
Other Editions of This Title:
Digital Audiobook (3/6/2016)
MP3 CD (3/7/2016)
Compact Disc (3/7/2016)
Description
The New Way to Get Noticed


The giant brands that once dominated the media landscape—Oprah, the New York Times, NPR, CNN—have seen their monopoly on public attention smashed by the Internet and now find themselves competing with individuals and brands in a sea of micromedia: websites, social media, blogs, podcasts, and more. Ace publicists and marketers Barbara Cave Henricks and Rusty Shelton show that to navigate through this modern terrain, you need to think more like a media executive than a marketer. The key lies in mastering three crucial categories of media—earned, owned, and rented—and knowing how to integrate each for maximum success. By using this proven strategy, you can create a positive feedback loop that will generate massive momentum and grow a large, loyal audience for your message.
Praise For Mastering the New Media Landscape: Embrace the Micromedia Mindset…
"Reading Mastering the New Media Landscape is a bit like having your two smartest friends take their time and patiently catch you up on everything that you've been missing. The online world has changed the media world, and it's not too late to catch up."
—Seth Godin, author of Purple Cow 

"In the old days, the only viable way to generate attention for you or your business was to buy it (advertising) or beg for it (traditional public relations). Barbara and Rusty show you a better way—understanding the world of micromedia, where everyone is a publisher."
—David Meerman Scott, bestselling author of The New Rules of Marketing and PR

"An incredibly smart and informative work. If you are aiming to broaden your influence, start here—it will change the way you influence others for years to come!"
—Tom Rath, #1 New York Times bestselling author of StrengthsFinder 2.0 and Are You Fully Charged?

"If you want to grow your audience in today's distracted and overcrowded world, read this book. Rusty and Barbara show you how to fascinate your audience."
—Sally Hogshead, New York Times bestselling author and creator of the Fascinate System

"Rusty and Barbara offer compelling, clear advice for approaching what seems to be an increasingly complicated media world. Mastering the New Media Landscape is an indispensable tool for anyone with a story to tell."
—Andy Andrews, New York Times bestselling author of The Noticer and The Traveler's Gift

"The authors explain PR and media strategies to get attention you own rather than rent. It's a futureproof, long-term view of how to master new media views."
—Ryan Holiday, author of Trust Me, I'm Lying and Growth Hacker Marketing

"In a fast-changing media milieu, this book provides a sure-footed blueprint for success."
—Julie Silver, MD, award-winning author, successful entrepreneur, and Associate Chair for Strategic Initiatives, Department of Physical Medicine and Rehabilitation, Harvard Medical School

"As a business practitioner, and having led an integrated communication company, I found the allocation of media budgets a major key to achieving success. The force of PR has been growing and growing. Now, PR skills play beautifully on the new media front. Social media and the new emerging micromedia have changed the communication landscape forever. I have seen Barbara Cave Henricks become a PR standout. Barbara and Rusty Shelton light up the complex, multifaceted, but oh-so-critical new media world. It's not just about being interesting—it's about the new way to get results."
—Peter Georgescu, Chairman Emeritus, Young & Rubicam

"If you want to grow your platform in today's media environment, this book is a must-read. Rusty and Barbara are truly two of the world's best when it comes to marketing and PR. Thankfully, they've created a go-to guide that walks you through each step of the process. Highly recommended!"
—Robert D. Smith, artist manager and author of 20,000 Days and Counting

"This book provides an excellent, easy-to-understand framework for building your brand using fast-changing new media platforms."
—Jill Totenberg, CEO, The Totenberg Group

"The emergence of micromedia has changed the game for those promoting their company, products, or brand. With this brilliant new book, Barbara Cave Henricks and Rusty Shelton expertly explain how to navigate the new media rules and grow your audience from the ground up."
—Jackie Huba, author of three books on customer loyalty, including Monster Loyalty

"How to create the magnetic pull that builds your business! Put this book on top of your business reading list to learn how to show up humanly and authentically as the value-added thought leader. The way you communicate in the media world today is part of what compels people to want to be in touch and do business with you."
—Jeanne Bliss, author of "I Love You More Than My Dog" and cofounder of the Customer Experience Professionals Association

"The world of media is constantly changing, and Rusty and Barbara are on the forefront of it all. This book will help you stay relevant and knowledgeable about the future. It may help you stay in business."
—Rory Vaden, cofounder of Southwestern Consulting and New York Times bestselling author of Take the Stairs

"Read this book. It holds the precious gift of both context and clarity in an ever re-interpreted world of media."
—Charlotte Beers, former Chairman and CEO, Ogilvy & Mather Worldwide, and former Under Secretary of State for Public Diplomacy and Public Affairs

"This book is a vitamin-packed feast for anyone who's serious about building a brand or promoting a cause. You want to be discoverable? This book shows you how. You want to create an army of engaged followers? This is your guide. You want to get maximum impact from earned media, rented media, and owned media? This is your instruction manual. Mastering the New Media Landscape is not just a book title. It's what people who want to make a difference must be busy doing."
—Rodger Dean Duncan, bestselling author of Change-Friendly Leadership

"Two of the best media minds today have created a simple, elegant model for the new micromedia world. Beyond concept, Barbara and Rusty show us how to utilize tested strategies for building and strengthening our own media platforms rather than depending on the elusive dictates of the traditional gatekeepers."
—Ray Bard, Publisher, Bard Press, publisher of The One Thing

"Anyone wanting to get a message out into the world will benefit enormously from reading Barbara and Rusty's book. Fast-moving and engaging, it provides tons of insight into what's happening today in publicity and marketing and how to take best advantage of all the possibilities available in this new media world."
—Erika Andersen, founder of Proteus, business thinker, and author of the new book Be Bad First

"The best way for businesses and individuals to learn how to successfully promote their products and ideas is to be educated by pragmatists who are engaged in the process every day. Barbara and Rusty have written a wonderful and extremely useful book on how to deal with the three dimensions of micromedia—earned, rented, and owned. They explain how to leverage each dimension to gain the best return."
—Bill Davidow, Silicon Valley pioneer and author of Overconnected

"Barbara and Rusty have written a treasure map to a bestseller. Study it. Follow it. Then watch your book soar!"
—Jill Griffin, author at Harvard's Working Knowledge, and author of Earn Your Seat on a Corporate Board

"The challenge facing us all is this: how do we stand out and stay relevant in the mostly disruptive and massively distracting world of micromedia? Mastering the New Media Landscape gives you the answers."
—Matthew E. May, author of The Laws of Subtraction

"For authors, what was once coasting down a smooth path is now riding a dirt bike over thousands of rocks and around a few hundred trees to hit the right jumps.  Barbara and Rusty have ridden ahead to keep you from flying over the handlebars."
—Rodd Wagner, New York Times bestselling author of Widgets
Berrett-Koehler Publishers, 9781626565807, 192pp.
Publication Date: March 7, 2016
About the Author
Barbara Cave Henricks, founder and president of Cave Henricks Communications, has spearheaded campaigns for some of the biggest names in business today, including Jack Welch, Tom Rath, Larry Bossidy, Ram Charan, John Bogle, Maria Bartiromo, and Marcus Buckingham.

Rusty Shelton, cofounder and chairman of Zilker Media, is an active keynote speaker, entrepreneur, and author of several books.
or
Not Currently Available for Direct Purchase