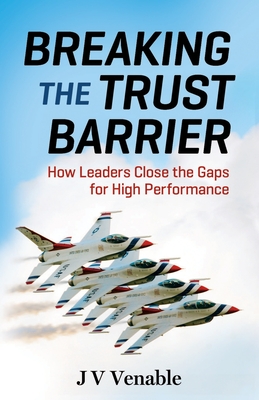 Breaking the Trust Barrier
How Leaders Close the Gaps for High Performance
Paperback

* Individual store prices may vary.
Other Editions of This Title:
Digital Audiobook (6/5/2016)
MP3 CD (6/6/2016)
Compact Disc (6/6/2016)
Description
Build Extraordinary Trust and Lead Your Team to a Higher Plane

For former US Air Force Thunderbirds' commander and demonstration leader JV Venable, inspiring teamwork was literally a matter of life and death. On maneuvers like the one pictured on the cover, the distance between jets was just eighteen inches. Closing the gaps to sustain that kind of separation requires the highest levels of trust.

On the ground or in the air, from line supervisor to CEO, we all face the same challenge. Our job is to entice those we lead to close the gaps that slow the whole team down—gaps in commitment, loyalty, and trust. Every bit of closure requires your people to let go of biases and mental safeguards that hold them back. The process the Thunderbirds use to break that barrier and craft the highest levels of trust on a team with an annual turnover of 50 percent is nothing short of phenomenal. That process is packaged here with tips and compelling stories that will help you build the team of a lifetime.
Praise For Breaking the Trust Barrier: How Leaders Close the Gaps for High Performance…
"As a leader in situations that are literally life-or-death, JV brings street cred to the challenge of leading high-performance teams. His examples come from the physics of close-formation aerial maneuvers and the incredibly small tolerances that make the difference between good and extraordinary. With quiet humor and humility, he uses those stories to offer insight and actionable advice leader to leader."
—Mark E. White, Principal, Global Consulting Chief Technology Officer, Deloitte Consulting, LLP

"JV does an amazing job of sharing powerful real-life examples that we can implement in our organizations. A fascinating read that delivers a message so powerful yet practical. This book should be required reading for all leaders looking to take their teams to new heights!"
—Bob Korzeniewski, Executive Vice President for Strategic Development, Verisign Inc., 2000-2007

"Even though this was written by the 'competition,' I found Breaking the Trust Barrier to be a great read. JV delivers a powerful message in a way that will stay with you and your team for years to come. Drafting is not just a process for building and leading high-performance teams; it's a pathway to success."
—Rob "Ice" Ffield, Blue Angels Flight Leader/Commanding Officer, 2001–2002, and President and CEO, CATSHOT Group, LLC

"Breaking the Trust Barrier is a leader's must-read! JV masterfully combines his Air Force experiences with thoughtful insights from commanding the world-famous Thunderbirds to create a road map for building real trust. He talks so honestly about commitment, loyalty, and trust that his message easily translates to any business or leadership environment. I honestly can't wait to apply much of what I have read with my own team."
—Dennis M. Satyshur, Director of Golf Operations, Caves Valley Golf Club

"JV clearly articulates the key to his success leading multiple organizations and gives readers a glimpse of the challenge, excitement, and emotion of leading a high-performance jet demonstration team. I followed JV in command of the Thunderbirds and was able to build on the principles he established. Leaders at all levels will fi nd this book inspiring, practical, and helpful in accelerating their leadership skills."
—Richard "Spad" McSpadden, Commander/Leader, USAF Thunderbirds, 2002–2004, and Senior Director, Hewlett Packard Enterprise

"Multiple commands and his stint as the lead pilot of the USAF Thunderbirds have given Colonel JV Venable powerful insights that he has captured in Breaking the Trust Barrier. His imagery will sear the themes of this book in your memory. His conception of trust is striking, memorable, and entirely new to the literature of leadership."
—Dr. Charles Ping, President Emeritus, Ohio University

"Captivating stories within Breaking the Trust Barrier make the process you'll find inside absolutely indelible. This is an inspiring book and, if you're like me, you'll start putting JV's techniques to work the moment you set it down. Whether you're a senior executive or just getting your footing as a leader, this is a must-read!"
—Linda Chambliss, Vice President, Global Account Operations, STARTEK

Berrett-Koehler Publishers, 9781626566101, 216pp.
Publication Date: June 6, 2016
About the Author
Colonel JV Venable (USAF, Ret.) is a Fighter Weapons School graduate who went on to lead the USAF Thunderbirds and a combat group of 1,100 American airmen in the Persian Gulf.
or
Not Currently Available for Direct Purchase