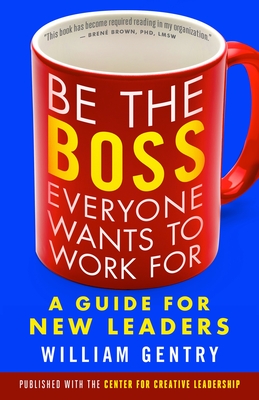 Be the Boss Everyone Wants to Work For
A Guide for New Leaders
Paperback

* Individual store prices may vary.
Other Editions of This Title:
MP3 CD (8/29/2016)
Compact Disc (8/29/2016)
Description
Flip Your Script!

You've been promoted to leadership—congratulations! But it's nothing like your old job, is it? William Gentry says it's time to flip your script.

We all have mental scripts that tell us how the world works. Your old script was all about "me": standing out as an individual. But as a new leader, you need to flip your script from "me" to "we" and help the group you lead succeed. In this book, Gentry supports and coaches you to flip your script in six key areas. He offers actionable, practical, evidence-based advice and examples drawn from his research, his work with leaders, and his own failures and triumphs of becoming a new leader. Get started flipping your script and become the kind of boss everyone wants to work for.
Praise For Be the Boss Everyone Wants to Work For: A Guide for New Leaders…
"Instead of learning from one (un)lucky boss at a time, what if you could learn from all of their successes and mistakes at once? That's what William Gentry offers—a tour through the art, science, and practice of leadership. With delightfully quirky writing and a strong foundation in evidence, this book is as fun to read as it is actionable."
—Adam Grant, Professor of Psychology, The Wharton School, and New York Times bestselling author of Originals and Give and Take

"Using a unique combination of research, straight talk, and humor, Gentry brings to light all of the barriers that keep new leaders from succeeding (including the ones we don't talk about) and offers clear-cut, actionable strategies to face those barriers head-on to become "the boss everyone wants to work for." It's clear that Gentry has a deep understanding of what it takes to develop strong leaders. This has become required reading in my organization."
—Brené Brown, PhD, LMSW, author of the New York Times #1 bestsellers Daring Greatly and Rising Strong

"If you are a new leader, this book is for you. The first chapter alone is worth the price of the book. Get started right and you can be the boss that everyone wants to work for. I highly recommend it."
—Gary Chapman, New York Times bestselling author of The Five Love Languages and The Five Languages of Appreciation in the Workplace

"You may be an all-star individual contributor at work, but being a manager is a whole different ball game! Follow Dr. Gentry's results-based strategy and learn what it really takes to be an effective, successful manager!"
—Marshall Goldsmith, Thinkers50 #1 Leadership Thinker in the World and author of the New York Times bestsellers Triggers, What Got You Here Won't Get You There, and Mojo

"Most employees are disengaged, and 60 percent of new leaders get no training as they are promoted into their first managerial position. Maybe these two facts are related! Basing his work on both social science and practical experience, Bill Gentry provides usable tools to help people become "the boss everyone wants to work for."
—Jeffrey Pfeffer, Thomas D. Dee II Professor of Organizational Behavior, Graduate School of Business, Stanford University, and author of Leadership BS

"I wish this book had been around when I started my career. Fortunately, it's never too late to make the six life-changing flips that Bill Gentry describes in this profoundly insightful book. With this trifecta of research conducted at the world-famous Center for Creative Leadership, personal stories from people on their own leadership journey, and a wonderfully entertaining writing style, this book is destined to be a classic. Bill's leadership road map will help you become the boss that everyone wants to work for."
—Joe Tye, CEO and Head Coach, Values Coach Inc., and author of All Hands on Deck

"At last, a research-based yet exceptionally hands-on book focused on one of the toughest boundaries to span—the one from superstar individual to manager. Gentry has captured the direction leadership development needs to go—sustainable, action oriented, and a total departure from old ways of thinking."
—Chris Ernst, Global Head, Learning, Leadership, and Organization Development, Bill & Melinda Gates Foundation, and author of Boundary Spanning Leadership

"In a humorous and compassionate voice, William Gentry offers practical, helpful advice to new leaders about what they must do to flip their way of thinking and acting to become the kind of boss people admire and want to support with their best efforts. Take heed of William's wisdom and you'll accelerate the growth of your leadership capacity."
—Stew Friedman, Practice Professor of Management, The Wharton School, and author of the bestsellers Leading the Life You Want and Total Leadership

"William Gentry has provided an easily digestible framework for new managers that is backed by deep-dive research. There's no arguing with this book—it's thoughtful and data driven from beginning to end."
—Tasha Eurich, Principal, The Eurich Group, and New York Times bestselling author of Bankable Leadership

"It's about time! Finally a down-to-earth, compassionate, actionable book for every new supervisor who has wondered, 'What have I gotten myself into?' In Be the Boss Everyone Wants to Work For Bill Gentry takes you from your first day as a new supervisor to a successful lifetime career, from individual contributor to senior leader. He helps you define a successful role that balances work with relationships and establishes a solid foundation for leadership mastery."
—Elaine Biech, author of New Supervisor Training, ATD Workshop Series

"For smart, practical guidance on becoming a boss, there's no better authority than Bill Gentry. His insights are grounded in first-rate research and the realities of organizational life—and refined by his own experiences as an up-and-coming leader."
—John R. Ryan, President and CEO, Center for Creative Leadership

"Every leader makes mistakes, but new leaders won't make nearly as many if they follow Bill Gentry's advice. I wish a book like this, which explores the foundations of leadership in a highly engaging style, had been available early in my career!"
—Ingar Skaug, retired President and Group CEO, Wilh. Wilhelmsen ASA

"Succeeding as a first-time boss can seem daunting, but Bill Gentry reminds us that instead it's the chance of a lifetime. Get this inspiring book into the hands of all your new leaders—it will accelerate their growth and build the leadership bench for your entire organization."
—Vice Admiral Cutler Dawson, US Navy (Ret.), President and CEO, Navy Federal Credit Union

"This book is a must-read for first-time leaders, or those aspiring to be leaders, by defining the critical mindset shifts and skills required for success. It also serves as an invaluable reference for human resource professionals to develop their next generation of leaders."
—Marcia J. Avedon, PhD, Senior Vice President, Human Resources, Communications and Corporate Affairs, Ingersoll Rand, plc

"Drawing on both his own personal experience and a wealth of empirical research, William Gentry outlines how new leaders must 'flip their script' to succeed in their new role. This is a practical guide that should be required reading for all new leaders (and maybe even some old leaders) in organizations."
—Kevin Kelloway, Canada Research Chair, Saint Mary's University, and President, Canadian Psychological Association

"Be the Boss Everyone Wants to Work For provides the essential 'missing link' in the journey of managerial development. William's up-to-the-minute research-based insights, heartfelt personal examples, and simple framework for practical application ensure this book will become beloved by new managers and the folks who develop them alike."
—Alison Smith, MSPOD, Vice President of Organizational Design and Development, Caribou Coffee and Einstein Noah Restaurant Group


 
Berrett-Koehler Publishers, 9781626566255, 216pp.
Publication Date: August 29, 2016
About the Author
William A. Gentry, PhD, is a senior research scientist and a director at the Center for Creative Leadership, a top-ranked global provider of executive education that serves more than 20,000 individuals and 2,000 organizations across the public, private, nonprofit, and education sectors, including more than 80 of the Fortune 100 companies.