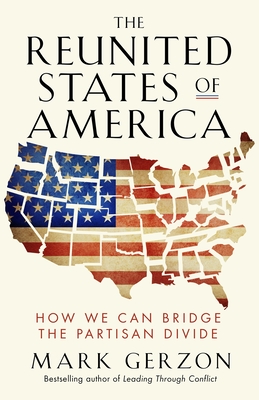 The Reunited States of America (Paperback)
How We Can Bridge the Partisan Divide
Berrett-Koehler Publishers, 9781626566583, 216pp.
Publication Date: February 29, 2016
* Individual store prices may vary.
Description
Out of Many, One

In this era of poisonous partisanship, The Reunited States of America is a lifesaving antidote. At a time when loyalty to party seems to be overpowering love of country, it not only explains how we can bridge the partisan divide but also tells the untold story of how our fellow citizens already are doing it.

This book, a manifesto for a movement to reunite America, will help us put a stop to the seemingly endless Left-Right fistfight while honoring the vital role of healthy political debate. Mark Gerzon describes how citizens all over the country—Republicans, Democrats, and independents—are finding common ground on some of the most divisive and difficult issues we face today.
About the Author
Mark Gerzon, president of Mediators Foundation, is a veteran mediator and expert on political bridge building. He is the author of Leading through Conflict: How Successful Leaders Transform Differences into Opportunities.
Praise For The Reunited States of America: How We Can Bridge the Partisan Divide…
"There are lots of reasons to feel bad about national politics. Mark Gerzon provides some well-thought-out, reality-based reasons to feel better—if we're willing to take the necessary steps. This is a realistically positive and useful book."
—James Fallows, national correspondent, The Atlantic

"Mark Gerzon's clear and insightful book plugs a gaping hole in the boat of our democracy. He explains how and why we have crashed into the shoals of partisan rocks and provides a compelling case for how to right the sails and navigate our way back to greatness."
—Mark McKinnon, cofounder of No Labels and former chief media advisor to President George W. Bush and Senator John McCain

"Because of his passion for democracy, Mark Gerzon identifies the uncomfortable challenges that we have to confront in order to change the culture of politics."
—Jacqueline S. Salit, President, IndependentVoting.org

"In this brilliant and practical manifesto, Mark Gerzon shows us why and how to work together for the good of the nation."
—William Ury, coauthor of Getting to Yes and cofounder of the Harvard Negotiation Project

"The Reunited States of America is a primer on citizenship. Read it with curiosity about how you make a difference."
—Debilyn Molineaux, President, Coffee Party USA

"This is why Gerzon's book is so important: it offers us visions, practices, maps, and models to help us light our path forward."
—Michael D. Ostrolenk, cofounder of the Liberty Coalition

"The Reunited States of America is a must-read—a path-finding book that will appeal to everybody regardless of political persuasion."
—David Williams, President, Taxpayers Protection Alliance

"As a millennial I'm fed up with the manipulation of both parties, and my generation has been hungry for something beyond complaining and protesting. I welcome The Reunited States of America with gusto because it finally leads us toward real problem solving."
—Erik Fogg, coauthor of Wedged

"Mark Gerzon, one of the leading mediators of our time, draws on decades of experience in this book to illuminate a pathway out of what may be the country's single greatest problem today: the extreme partisanship and disrespect that has made it almost impossible for Americans to work together."
—David Bornstein, author of How to Change the World

"Read this book: for yourself, for the rest of us—but most of all, for yourself."
—Peter C. Goldmark, Jr., former President, The Rockefeller Foundation

"This book helps us find our way back to the spirit of America."
—Dan'l Lewin, Corporate Vice President, Microsoft

"In our civic engagement work, we focus on building authentic relationships between people who vote and think differently than each other—a surprisingly unique proposition in today's fractured political culture. We can hold our convictions while appreciating other views. Gerzon illustrates that hyperpartisanship is not patriotism. Loving our country demands independent thinkers willing to move forward together. Mark Gerzon shows us that this does not make us vulnerable. It makes us stronger."
—Michele Holt-Shannon, Associate Director, New Hampshire Listens, Carsey School of Public Policy, University of New Hampshire

"Mark Gerzon offers us the clearest diagnosis yet of the disease of hyperpartisanship that afflicts American democracy as well as the necessary cure.  He brilliantly illuminates our path forward into healed relationships and healthy democracy by focusing on inspiring tales of breakthrough success and how they happened.  It's a heartwarming antidote to cynicism, polarization, and apathy, as well as a clarion call for us to embrace our entire American family."
—Stephen Dinan, CEO, The Shift Network and author of Sacred America 

The Reunited States of America, for the first time in recent memory, offers our country a sorely needed third narrative.  Narratives #1 and #2 say "Join our side and we'll fix it." Narrative #3 says, "It's going to take all of us working together to fix it."
-John Steiner, co-founder, The Bridge Alliance and Citizen Summit 2016