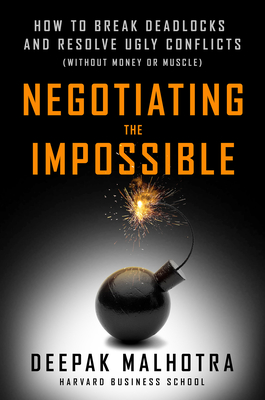 Negotiating the Impossible (Hardcover)
How to Break Deadlocks and Resolve Ugly Conflicts (without Money or Muscle)
Berrett-Koehler Publishers, 9781626566972, 224pp.
Publication Date: April 4, 2016
Other Editions of This Title:
Paperback (6/19/2018)
Compact Disc (4/4/2016)
Paperback, Spanish (1/31/2017)
MP3 CD (4/4/2016)
* Individual store prices may vary.
Description
Some negotiations are easy. Others are more difficult. And then there are situations that seem completely hopeless. Conflict is escalating, people are getting aggressive, and no one is willing to back down. And to top it off, you have little power or other resources to work with. Harvard professor and negotiation adviser Deepak Malhotra shows how to defuse even the most potentially explosive situations and to find success when things seem impossible.

Malhotra identifies three broad approaches for breaking deadlocks and resolving conflicts, and draws out scores of actionable lessons using behind-the-scenes stories of fascinating real-life negotiations, including drafting of the US Constitution, resolving the Cuban Missile Crisis, ending bitter disputes in the NFL and NHL, and beating the odds in complex business situations. But he also shows how these same principles and tactics can be applied in everyday life, whether you are making corporate deals, negotiating job offers, resolving business disputes, tackling obstacles in personal relationships, or even negotiating with children.

As Malhotra reminds us, regardless of the context or which issues are on the table, negotiation is always, fundamentally, about human interaction. No matter how high the stakes or how protracted the dispute, the object of negotiation is to engage with other human beings in a way that leads to better understandings and agreements. The principles and strategies in this book will help you do this more effectively in every situation.
About the Author
Deepak Malhotra is the Eli Goldston Professor of Business Administration at Harvard Business School. He teaches negotiation in the MBA program and in a wide variety of executive education programs. He has been published in top journals in the fields of management, psychology, conflict resolution, and foreign policy, and he has won numerous awards for both his teaching and his research. He does training and consulting work for firms across the globe and advises governments that are seeking to end armed conflicts. He is the coauthor of Negotiation Genius and the author of I Moved Your Cheese.
Praise For Negotiating the Impossible: How to Break Deadlocks and Resolve Ugly Conflicts (without Money or Muscle)…
"Easily the best negotiation book I have ever read. If you are involved in high-stakes negotiation, Negotiating the Impossible will give you actionable nonintuitive ideas that will positively impact your future."
- Bill Gurley, venture capitalist and General Partner, Benchmark

"Packed with practical principles and illustrated with compelling examples, Negotiating the Impossible is one of the most useful and enjoyable negotiation books you will ever read!"
- William Ury, coauthor of Getting to Yes

"Negotiating the Impossible delivers on its promise. By using historically significant, seemingly intractable negotiations as examples, Malhotra provides practical lessons for the everyday negotiations in your life—including the three surprising 'levers' at your service when the use of force is not a viable option. This book is magic for any deal maker."
- Daniel H. Pink, author of Drive and To Sell Is Human

"Deepak Malhotra has done what few others could do: he draws upon the lessons of history to demonstrate that even the worst conflicts can be resolved. This book is especially significant because it gives both the inspiration and the tools you need to tackle extremely difficult negotiations."
— David Gergen, Senior Political Analyst, CNN; adviser to four US presidents; and Codirector, Center for Public Leadership, Harvard Kennedy School

"If you want the best advice on how to negotiate when it looks like a deal can't be done, then Negotiating the Impossible is a must. It's filled with great strategies you can immediately put to use in your business and personal lives. It's also an extremely entertaining, thought-provoking book that you won't want to put down."
- Tyra Banks, CEO, TYRA Beauty, and creator of America's Next Top Model

"If only we could lock the world's leaders in a room to read this book. Professor Malhotra's analysis of how negotiators can achieve the best possible outcomes for all sides is revelatory. It also starkly highlights what's missing in current negotiations—whether on refugees, on peace in Syria, or on Eurozone debt. This is a must-read for all practitioners of politics and public service."
- Ngaire Woods, Founding Dean, Blavatnik School of Government, University of Oxford, and adviser to the IMF Board, UNDP's Human Development Report, and Commonwealth Heads of Government

"Professor Malhotra is a rare academic with real expertise in the world of negotiation and diplomacy. He gets his hands dirty and has worked behind the scenes on some of the most difficult negotiations of our time. Professor Malhotra sees what others don't see—and he has written it all down in Negotiating the Impossible."
- Jonathan Powell, former Chief of Staff to Tony Blair; chief British negotiator on Northern Ireland; founder of Inter-Mediate; and author of Talking to Terrorists
 
"Negotiating the Impossible is a tour de force. Professor Malhotra is both a leading academic and an amazing storyteller; he has also been in the trenches and knows firsthand what it takes to tackle even the most difficult of situations. Whether you've done one deal or a hundred, this book will change how you negotiate. I will be giving it to everyone on my team."
- Vinod Khosla, venture capitalist and founder of Khosla Ventures